Warnings over 'flaring' at chemical plant in Fife
19 April 2018, 10:03 | Updated: 19 April 2018, 10:10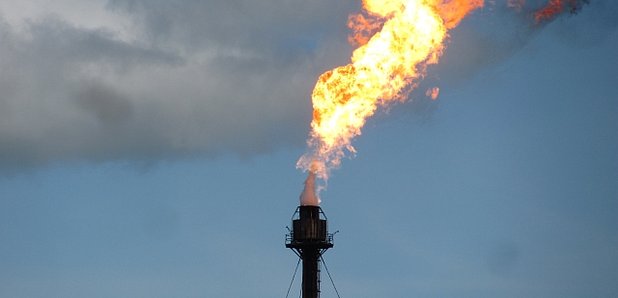 Two major petrochemical companies have been served with final warning notices over an unplanned flaring incident at a chemical plant.
Black smoke was seen coming from the Mossmorran complex in Fife with nearby residents complaining of noise and vibration during the incident in June 2017.
The Scottish Environment Protection Agency (Sepa) received 74 complaints.
Following an intensive investigation, Sepa found that environmental controls were breached during the incident and has served ExxonMobil Chemical Ltd and Shell UK Limited with Final Warning Letters.
ExxonMobil Chemical and Shell UK said they were co-operating with Sepa and have worked to address the issues.
Sepa found that whilst flaring is an important safety feature in the event of a process fault, a series of maintenance failures led to elevated levels of unplanned flaring in breach of environmental controls between June 12 and 18, 2017 following the breakdown of a condensate pump.
Sepa has commissioned a full review of the environmental permits to operate both sites at the complex and has also announced an enhanced programme of air quality monitoring.
Terry A'Hearn, Sepa's chief executive officer, said: "Every day, Sepa works to protect and enhance Scotland's environment and compliance with Scotland's environmental rules is simply non-negotiable.
"The impact of unplanned flaring from Mossmorran last year was both preventable and unacceptable.
"We're disappointed that both ExxonMobil Chemical and Shell UK caused an environmental impact on local communities which is why we've issued formal Final Warning Letters, have commissioned a full review of environmental permits to operate and an enhanced programme of air quality monitoring.
"It's clear that further actions are required by ExxonMobil Chemical and Shell UK to ensure the frequency and impact of flaring is reduced, but we're encouraged by how both companies have responded, committing to respond positively to a strengthening of environmental controls.
"We'll be working with the Health and Safety Executive, public health partners and communities to together both strengthen environmental controls and deliver powerful transparency over site operations."
Sepa said that unplanned flaring events which took place in October 2017 and March 2018 are still under investigation.
An Exxonmobil spokesman said: "We apologise to the local community for the flaring in June last year which we recognise caused particular concern and inconvenience.
"We have cooperated fully with Sepa throughout its investigation and accept its findings. We have worked thoroughly to address the issues identified, consistent with our internal investigation.
"Following the events in June last year, we completed our own detailed investigation into the flaring and its impact on the community, and have already made a series of improvements to our maintenance processes, and to our flaring-related communications with the local community. We are also committed to work with SEPA on an enhanced programme of air quality monitoring.
"Flaring is safe and is used widely in petrochemical plants and refineries worldwide. Flares are designed to process hydrocarbons safely when production is interrupted.
"While the flare is a vital safety system for the plant, it is otherwise of no benefit to anyone including our operations because it impacts on production."
A Shell Spokesman said: "We recognise that the unusual flaring events at the Mossmorran complex in June 2017 raised community concern around flaring and air quality.
"We take compliance very seriously. In response we have been cooperating with Sepa, and working closely with our neighbours at the ExxonMobil-operated Fife Ethylene Plant on technical and operational measures that will help avoid the circumstances which led to that flaring event from happening again.
"We stepped up our engagement in the community last July to understand people's concerns. This work is ongoing with community groups and other parties to address concerns raised."