Sun soaked TRNSMT
30 June 2018, 11:20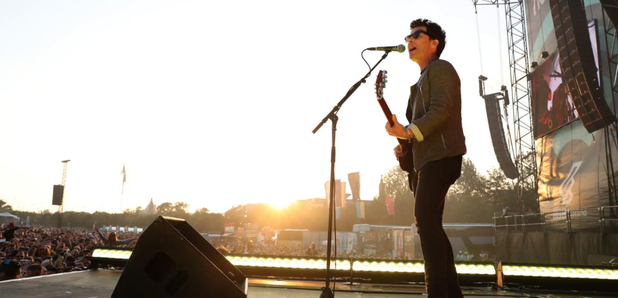 Organisers handed out water and suncream as temperatures soared on day one.
The Stereophonics played hits spanning 20 years of making records as they headlined Glasgow's TRNSMT festival.
The Welsh rockers closed the first night of Scotland's biggest summer music event with crowd-pleasers including Have A Nice Day, I Wouldn't Believe Your Radio and Handbags And Gladrags.
The audience cheered when frontman Kelly Jones introduced A Thousand Trees, the first song from their 1997 debut album.
Later launching into Indian Summer, Jones told revellers at a sun-soaked Glasgow Green: "I'd like to say we brought the weather with us."
James Bay had earlier charmed the TRNSMT crowd, telling singing fans "You sound incredible" before launching into a cover of the classic
track Simply The Best.
Bay said he had played some of the greatest gigs of his career in Glasgow and was honoured to be invited to play at the festival, now in its
second year.
Wearing a pair of tartan trousers, the 27-year-old singer-songwriter played a mix of older hits and tunes from Electric Light, released last
month.
Around 40,000 people packed into Glasgow Green for the first day of TRNSMT, which has taken over from T in the Park as Scotland's major
summer music event.
Jessie J, Kodaline, The Script and Tom Walker performed across two stages as the heatwave that saw Glasgow mark its hottest day on
record on Thursday continued.
Bay told the Press Association ahead of his show: "It's a baby festival, it's new and for me it's very exciting to be here.
"But to be honest, any excuse to come up to Glasgow and play a show. I have had some of the greatest shows of my time so far in Glasgow.
I do really love playing to the people up here. They bring their own show. They bring their own party atmosphere."
Talking about the response to Electric Light, the follow-up to debut Chaos And The Calm, he said: "My move was to evolve and not just be
the same person as on the first album, to expand my palette and my sound, and all my fans are coming with me on that journey which is all I can ask for.
"And I'm finding new people who didn't necessarily listen to Chaos And The Calm but they've found Electric Light and they want to get on
board.
"That's all I could ask and hope for, and it's awesome that it's happening. It's exciting to be back in that respect, and playing more shows
and connecting with everybody again."
The TRNSMT Saturday line-up includes Wolf Alice, Courteeners and a headline performance by Liam Gallagher.
Miles Kane, Interpol and the Arctic Monkeys will play the festival on Sunday, among others.
The following weekend will see performances from Queen + Adam Lambert, Texas, Jessie Ware and The Killers.
Friday performer Tom Walker, whose song Leave A Light On has been a huge hit across Europe - reaching number one in France - as well as in the UK, said the good weather has been following him wherever he goes.
Walker, who has just returned from playing two festivals in Germany, said: "We've got 35 festivals this summer. The weather has been
amazing everywhere we've been.
"I'm just so grateful for everyone supporting the song because it's gone totally mad around Europe and then full circle back to the UK."
The singer-songwriter, who was born in Glasgow, said TRNSMT looked like a "wicked" event.
"I've been absolutely buzzing about this for a couple of months now. It's an honour to be here, I'm really excited," he said.