Sturgeon Calls For New Brexit Approach
12 June 2017, 07:29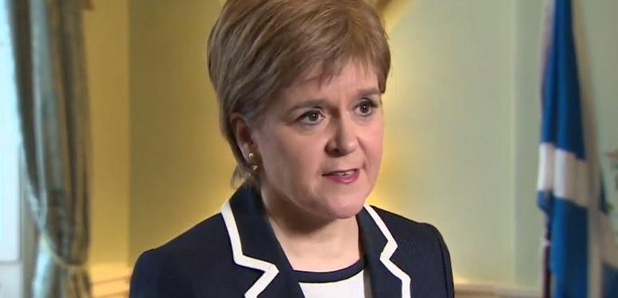 Nicola Sturgeon will call for a cross-party "four nation'' approach to the Brexit negotiations as she joins SNP MPs at Westminster later today.
The First Minister wants membership of the European single market and the customs union to be "at the heart'' of a new way forward, with the rights of EU nationals living in the UK guaranteed with immediate effect.
Her party won 35 seats in last week's General Election, down 21 on the 56 MPs it returned in 2015.
However with Theresa May failing to win a majority for the Conservatives, Ms Sturgeon will insist a UK-wide consensus position must be adopted as the process of leaving the EU begins.
A previous call for a special deal to keep Scotland in the single market was rejected by the UK Government, prompting Ms Sturgeon to demand a second independence referendum when the Brexit process was triggered in March.
The First Minister has admitted the issue of another ballot was a factor in last Thursday's vote, and stated the party will reflect on its plans amid calls for it to be taken off the table.
She has turned her focus to the UK's Brexit approach as political leaders including Scottish Conservative leader Ruth Davidson call for more consensus.
The SNP wants a "short pause'' in the Brexit talks, due to start on June 19, to develop a new approach.
Its proposals include the involvement of the devolved governments in the negotiations, and the re-establishment of the Joint Ministerial Committee (JMC) on EU Negotiations.
The party also wants a cross-party advisory group to be set up, including representatives from the devolved administrations, to agree a new position for the UK and oversee the Brexit negotiations.
With Mrs May forging a deal with the Democratic Unionist Party to support a minority government, the SNP has further called for representation for both sides of the political debate in Northern Ireland in the advisory group.
Speaking ahead of meeting the new parliamentary group in Westminster, Ms Sturgeon said: "In what is a very unstable situation for the UK Government it is essential that time is taken to secure a consensus over the approach to Brexit negotiations.
"The Tories' hard Brexit plan has been rejected and we cannot allow the Brexit negotiations to become hostage to the inability of either the Tories or Labour to command a clear majority.
"The strongest possible position in the Brexit negotiations will be one that is backed by all parties and all governments across the UK.
"As a first step it is now imperative that the UK Government takes a short pause before beginning negotiations to work with others to put together a new position - one that is truly based on the interests of the whole of the UK.''
She added: "And at the heart of this position must be maintaining our place in the single market and in the customs union. That is where common ground lies.
"The SNP and the Scottish Government are ready to begin discussions around such a position immediately and I call on all parties to come together to build a new way forward.''
Speaking on Saturday, Ms Davidson said: 'I want to ensure that we can look again at issues like Brexit which we know we are now going to have to get cross-party support for. And move to a consensus within the country about what it means and what we seek to achieve as we leave.''