Storm Desmond: Flood Warnings Remain In Borders
7 December 2015, 09:19 | Updated: 30 March 2016, 13:50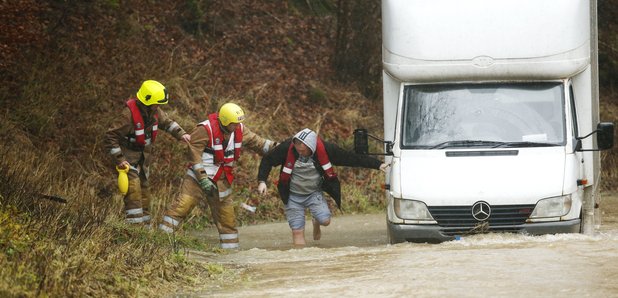 tPeople are returning to their homes and assessing the damage of flooding caused by Storm Desmond in the south of Scotland as forecasters warn that more rain is on the way.
Flood warnings remain for parts of the Borders and Dumfries and Galloway, but a rare red weather alert that was in place for the region has been removed as the heavy rain passed over the weekend.
At the peak of the problems, around 300 homes were evacuated in Hawick as the River Teviot burst its banks, while properties in Newcastleton, Langholm, Annandale and Eskdale were also affected.
A number of riverside roads in Hawick were destroyed by the fast flowing water, while the town's famous rugby ground was partially submerged by flooding.
More than 100mm of rain fell in the area throughout Friday and Saturday, according to Met Office figures.
The River Tay in Perth was also closely monitored as it reached its highest level for a decade and a handful of homes were evacuated in Bridge of Earn and Blair Atholl on Saturday night.
The Met Office is now warning of more rain this week with yellow weather alerts covering Tayside, Fife, Stratchclyde, the Borders and south west Scotland until Thursday.
A spokesman said: ''A spell of persistent rain, heavy at times, is expected to affect parts of Scotland, north-western England and Wales from Monday late afternoon or early evening onwards into Monday night.
''Whilst this rain will neither be as heavy nor as prolonged as recent rain, please be aware that in view of the saturated nature of the ground and high river levels further localised flooding and disruption to transport is possible.''
The Scottish Government's resilience committee met three times over the weekend to assess the impact of the flooding.
Deputy First Minister John Swinney said: "Although water levels are dropping, they remain very high and continued vigilance is needed. These water levels can in themselves be dangerous so I continue to urge people to pay heed to road closures and weather warnings, as well as any local advice provided by police or the fire service.
"My thanks go to all those who have worked so hard overnight in such difficult conditions, and to all the public services and other agencies who have put in extraordinary efforts to try to keep the disruption and damage to a minimum.''
The Hawick Flood Group - set up in the wake of previous floods in the town - thanked volunteers for their work during the bad weather and urged people to support the creation of a new flood prevention scheme which would raise a number of bridges and create upstream reservoirs to store flood water.
Marc Becker, hydrology duty manager at the Scottish Environment Protection Agency, said: "This has been a particularly severe event with multiple parts of Scotland feeling the impacts of flooding. The outlook is improving, rivers have peaked and will be falling back through the rest of the day, giving us some respite.
"However, the impact of flooding will be with us for a while yet, although we're moving into a recovery phase. Areas of standing water will persist and so anyone travelling will need to remain vigilant.
"This event has seen some of the highest river flows for a considerable period of time. The River Tay at Perth peaked at levels not seen since 2006 and the Teviot at Hawick was the second highest in 30 years of record.
"The Teith at Callander was the second-highest in a 45-year record. The team at Sepa are continuing to monitor the situation and watching river levels closely.''