'Space' Launch For New £10 Note
4 October 2017, 07:40 | Updated: 4 October 2017, 07:44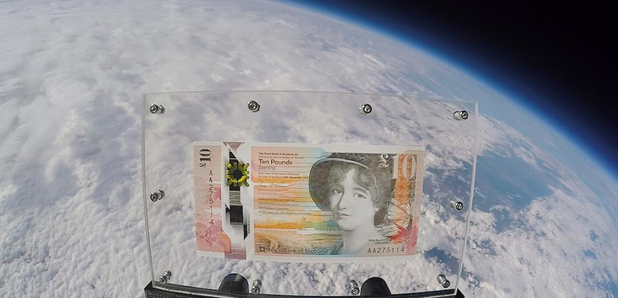 Primary school pupils in Perthshire helped Royal Bank of Scotland launch its first £10 polymer banknote - by sending it to the edge of space.
Children from St Stephen's and Newhill Primary schools in Blairgowrie joined a team of scientists to take the new note, featuring Scottish astronomer Mary Somerville, 38,500 metres into the earth's atmosphere.
The note, which is 15% smaller than its paper equivalent, contains new security features which make it difficult to counterfeit but easy to authenticate.
The note also features raised braille details to help the visually impaired.
Mary Somerville (1780 - 1872) was chosen as the face of the new £10 after a public vote on social media.
Behind her portrait is an illustration of her hometown of Burntisland, Fife. A moon diagram from her book, Mechanism of the Heavens also appears when the note is viewed under UV light.
The note was sent into the atmosphere from the schools' shared campus with help from scientists from Sent into Space.
They attached a camera to a weather balloon and were able to photograph and film the note's ascent before it landed in the north of Scotland.
Malcolm Buchanan, chairman of the bank's Scotland Board, said: "At the Royal Bank of Scotland, we feel that a banknote's value is more than just the figure printed across its front - it is our symbol which lives in people's pockets and touches everyday lives.
"This is our most advanced note yet and we wanted the public to help influence its design. It is fitting that the public vote led to the choice of Mary Somerville, a person who helped advance our understanding of the world which surrounds us and the stars above us."
The new £10 note will be cleaner, more secure and more durable than traditional cotton notes, on average lasting 2.5 times longer, the bank says.
Its development involved 27 designers and artists from Graven Images, Nile, Stucco, Timorous Beasties, O'Street and the Glasgow School of Art.