Queensferry Crossing Closed For 3 Days After Death
29 April 2016, 15:23 | Updated: 29 April 2016, 15:24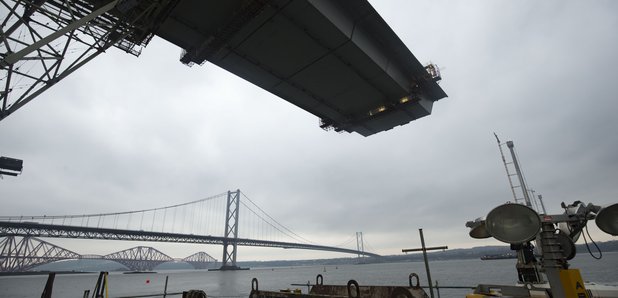 The Queensferry Crossing construction site is to be closed for three days as a mark of respect for the worker who was killed by a crane.
The 60-year-old man was reportedly struck by the boom of a crane he was directing on the north tower deck at about midday on Thursday.
Another man also suffered minor injuries in the incident.
Construction on the £1.4 billion bridge started in 2011 and the death is thought to be the first fatality at the site. It is due to open to traffic in December.
Work is usually carried out on the bridge 24 hours a day and seven days a week by different shifts, but the construction site is to be closed until Tuesday.
Transport Scotland said there is usually a reduced workforce on weekends and bank holidays, but construction has been halted from Friday.
A project spokesman said: "Following the loss of a colleague yesterday, there remains a deep sense of shock and sombre reflection.
"The construction site was open this morning to allow colleagues to come together and support each other.
"Everyone on the site has been deeply affected by this tragedy and specialist support is being made available for anyone who needs it.
"The construction site will close from 1pm today and will remain closed until Tuesday morning.
"The return to work will start with a mark of respect for our lost colleague. An investigation into the incident is ongoing.''
The Health and Safety Executive is investigating the incident.
Union leaders said the death on Workers' Memorial Day was a poignant reminder of the dangers in the construction industry.
UCATT regional secretary Harry Frew said: ''UCATT sends its sincere condolences to the family of the worker who has suffered this tragic accident. It is impossible to imagine how they must be feeling.
''UCATT will be doing everything it can to find out how and why this accident occurred, and to ensure that similar fatalities are prevented in the future.''
The bridge is the largest construction project in Scotland and was ordered by the Scottish Government due to concerns over the future of the Forth Road Bridge connecting Fife and Edinburgh.
First Minister Nicola Sturgeon was among those paying tribute to the worker on Thursday.
She wrote on Twitter: "All of my thoughts are with the family and friends of the worker who has died on the Queensferry Crossing.''