Police Investigating Corrie McKeague's Disappearance Issue Fresh CCTV Images
21 September 2017, 15:22 | Updated: 21 September 2017, 15:23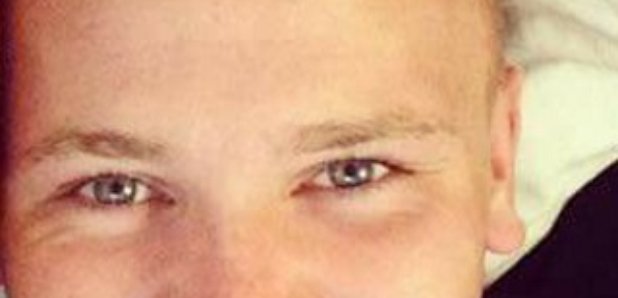 Detectives investigating the disappearance of RAF gunner Corrie McKeague have released CCTV images of people they want to speak to almost a year after he vanished.
Mr McKeague was 23-years-old when he vanished after a night out with friends in Bury St Edmunds, in Suffolk, on September 24 last year.

Sunday marks a year to the day since he disappeared, and Suffolk Police said there would be a police pod in the town this weekend for people to speak to officers with new information. The pod would be in Brentgovel Street, where Mr McKeague was last seen at 3.25am.

Police have also released CCTV images of people they believe may have had some interaction with Mr McKeague on the night he went missing.

Officers have stressed the people are not suspects, they are not key witnesses and have no direct link with Mr McKeague, but may have information that could help them understand what happened to him.

CCTV images include a woman in the doorway of Flex nightclub at 2.23am, a man entering the same club and someone stood outside a McDonald's restaurant at 4.30am.
.@SuffolkPolice have released a number of images of people they want to speak to over Corrie McKeague's disappearance last year: #FindCorrie pic.twitter.com/iIpQ1Buw83

— CapitalScotland News (@CapitalScotNews) September 21, 2017

There is also an image of a bald man in a red jacket walking away from Flex nightclub at about 1.25am, and an image of four men at the entrance to Flex nightclub at about 1.16am.

Suffolk Police said officers knew Mr McKeague had a brief interaction with them before the group entered the Flex club.

Detective Superintendent Katie Elliott said: "Our thoughts are with Corrie's family and friends 12 months on from his disappearance.

"It is fair to say that a year on from him going missing, we never thought we would be in this position of not yet locating Corrie or establishing exactly what happened to him.

"We have always wanted to provide answers to Corrie's family about what happened to him.

"The search for Corrie remains an active investigation.

"We would appeal directly to the public who were out in Bury St Edmunds exactly 12 months ago on the night he went missing and maybe a year on are once again back in the town centre this weekend.

"We would ask the public to call us if they have fresh information that may be of benefit to the investigation.

"We have deliberately placed the police pod on Brentgovel Street as we know this is the route Corrie took on that evening and hope our presence will jog someone's memory."

No trace of Mr McKeague, from Fife but based at RAF Honington in Suffolk, was found during a 20-week search of a sprawling landfill site at Milton in Cambridgeshire.

Ms Elliott said this was "bitterly disappointing", adding: "We had compelling information that directed us to this particular area of the landfill site."

A bin lorry was caught on CCTV near Brentgovel Street in Bury St Edmunds around the time Mr McKeague was last seen. It took a route which appeared to coincide with the movements of his phone.

The bin lorry linked to Mr McKeague's disappearance was initially thought to have collected a 24lb (11kg) load, but police said it was later found to be more than 220lb (100kg).

His mother, Nicola Urquhart, wrote on Facebook that she would retrace his final steps this weekend in a bid to "jog someone's memory" and solve the case.