Ministers urged to be 'transparent' about Queensferry Crossing closures
9 January 2018, 18:09 | Updated: 9 January 2018, 18:12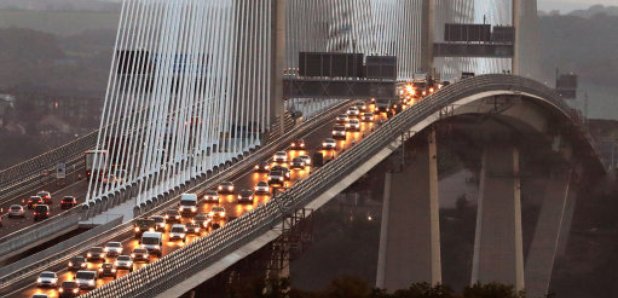 A Liberal Democrat MSP has called for the Scottish Government to be "open and transparent" about any possibility of future closures of the Queensferry Crossing after it was revealed 23 works are still outstanding.
A Transport Scotland official wrote to Holyrood's Rural Economy and Connectivity Committee outlining the planned works, some of which are expected to last until September.

Among the projects still to be completed are commissioning access equipment for tower and cable maintenance, concrete finishing, painting, work on the windshields and "bearing remedials" on two piers.

The £1.35 billion bridge across the Firth of Forth opened to traffic on August 30 before closing again ahead of an official opening by the Queen the following week.

Since then, the southbound carriageway was shut for several days to deal with snagging issues.

Transport Scotland major transport infrastructure projects director Michelle Rennie told the committee in a letter the bridge contractor has until the end of September to "complete the remaining works and snagging" for the bridge, excepting sliproads and planting.

She said: "The programme for undertaking these works is determined by the contractor.

"However, this is subject to change for a variety of reasons including weather sensitivities, availability of resource and progress on other activities."

Liberal Democrat MSP Alex Cole-Hamilton said: "The SNP accused the opposition of talking Scotland down when we questioned whether work on the Queensferry Crossing had been completed.

"Scottish Liberal Democrats asked for this information in September but were told commercial sensitivities trumped the public interest in knowing this.

"A cynic might suggest that the Scottish Government were deliberately avoiding releasing anything that would overshadow their photo opportunity.

"Residents and road users will be hoping that this will not mean further closures and delays. The Scottish Government should be open and transparent about whether this will be case."

Scottish Conservative transport spokesman Jamie Greene said: "People who depend on the Queensferry Crossing will be concerned at the prospect of further inconvenience.

"Most commuters consider snagging works to be minor and something that can be taken care of immediately.

"If those are major works which require closure or part closure, then the SNP should be up front with bridge users."

Transport officials have said more lane restrictions could be expected on the crossing until September months due to ''snagging'' issues but the First Minister has said the previous southbound lane closure was "the only identified work" requiring peak-time lane closures.

A Transport Scotland spokesman said: "During previous Parliamentary committee appearances we have consistently said that a range of finishing work would be required once the new bridge opened.

"The list of outstanding work refers to a range of tasks that have always been intended to be completed once the Queensferry Crossing opened to traffic.

"As is normal with infrastructure projects to ensure the benefits of the new bridge were delivered to road users as quickly as possible while allowing any remaining work to be safely carried out while traffic uses the bridge.

"The remaining work has a minimal impact on traffic using the bridge and involves tasks such as under-deck painting which needs to be undertaken during the spring and summer months, the bridge control-room and work inside the bridge deck and towers.

"This means that any further lane closures required will take place at night time and away from peak times."