Losing Single Market Could Devastate Scot Economy
20 December 2016, 07:31 | Updated: 20 December 2016, 07:33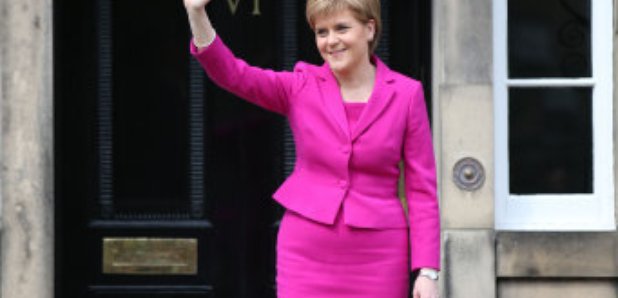 Losing Scotland's place in the single market would be ''potentially devastating'' to the country's long-term prosperity, the First Minister has said.
Nicola Sturgeon said that being part of the European Single Market is ''vital for Scotland's future economic wellbeing'' and warned against a hard Brexit.
She was speaking ahead of the publication of the Scottish Government's paper, ''Scotland's Place in Europe'' in Edinburgh on Tuesday.
The paper will propose that Britain should remain in the free trade bloc even though the UK has voted for Brexit.
The document will also set out how Scotland could remain in the single market without the rest of the UK and propose a ''substantial transfer of new powers to Holyrood'' after the country leaves the European Union (EU).
Ms Sturgeon said: ''Being part of the European Single Market is vital for Scotland's future economic wellbeing. And losing our place in the Single Market would be potentially devastating to our long-term prosperity, to jobs, investment and people's livelihoods.
''It would end our current status as part of the world's biggest free trade area, a market around eight times bigger than the UK's alone, and would have a profound and long-lasting impact on our national economic standing and our standards of living.
''Analysis shows the cost to our economy of a hard Brexit, outside the Single Market, could be around £11 billion a year by 2030, with an independent forecast of 80,000 lost jobs in Scotland and a cut in average earnings of around £2,000 per person after a decade.
''But it is not just the loss of existing jobs and investment that would be at stake. In addition, there is the prospect of lost investment and employment - money and jobs which our place in the Single Market would ensure but which would otherwise never materialise.
''That is why the paper we publish today is centred on retaining our place in the Single Market - and why it is so important Scotland avoids the hard Brexit threatened by the right-wing Brexiteers in the Tory party.
''Our proposals deserve full and proper consideration, as the Prime Minister has already pledged, and I look forward to discussing them in the weeks ahead.''
In a phone call on Monday Prime Minister Theresa May told Ms Sturgeon she will look ''very seriously'' at proposals aimed at keeping Scotland in the European single market.
Former First Minister Alex Salmond suggested on Sunday that Scotland will have another independence referendum if it cannot stay as a member of the single market following Brexit.
He suggested that the Yes side would win if the UK Government was determined to ''sever'' Scotland's European links,
Scottish Labour's Europe spokesman Lewis Macdonald said: ''Labour will scrutinise the SNP's proposals and hold Nationalist ministers to account on whether or not they can actually be delivered. But we are very clear that Labour will not support anything that puts Scotland's place in the United Kingdom at risk.''
He added: ''The SNP's Brexit paper should accept that remaining in the UK is even more important to Scotland than being part of the European Union. Labour will oppose any attempts by the SNP to use Brexit as an excuse to force another independence referendum on the people of Scotland.''
Scottish Conservative constitution spokesman Adam Tomkins said: ''The Scottish Conservatives want a deal for the whole UK which gives us the maximum access to trade freely in the EU single market.
''We also want a deal that does nothing to imperil our own UK single market, which is four times as important to Scotland than the EU market.
''The SNP has been warned repeatedly in recent weeks that its plan for a separate Scottish deal - leading to a hard economic border with England - would damage Scotland and damage Scottish jobs.
''Yet it seems to be in complete denial about the consequences of its actions.''
Scottish Lib Dem leader Willie Rennie said: ''If the SNP are true believers in the EU they would put independence to one side and work with parties across the whole of the UK that are working to protect the UK's position with the EU. That's how we can protect Scotland.''