Glasgow Queen Street voted UK's worst
7 May 2018, 07:02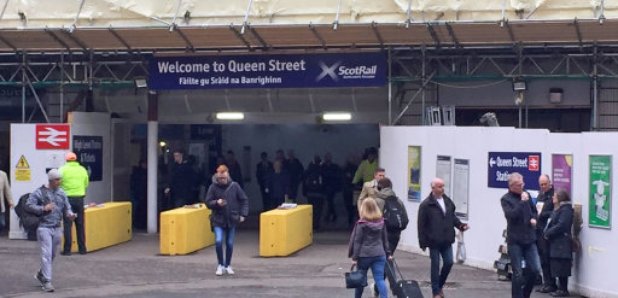 Glasgow Queen Street is named Britain's most unpopular railway station
Only 58% of passengers say they are "satisfied" with the city centre terminal, according to Transport Focus data obtained by the Press Association.
The second worst score was given for the station serving Gatwick Airport (66%), followed by Oxford (67%) and Clapham Junction (69%).
Also among the bottom 10 were London Victoria (72%), Hull (73%) and Cardiff Central (75%).
The top four stations have all undergone major refurbishments in recent years - London King's Cross (96%), London St Pancras (95%),
Birmingham New Street (92%) and Reading (92%).
Independent watchdog Transport Focus surveyed more than 28,000 passengers, with 56 stations where at least 100 people responded
included in the ranking.
The survey was conducted between September and November last year, shortly after a £100 million modernisation project began at Glasgow
Queen Street.
Nine months into the work, some passengers are still unhappy with the station's condition.
Cameron MacIntosh, 32, a sales adviser from Stirling, said: "The station is an absolute bomb site at the moment.
"It really looks like a place from the third world. I try and avoid it."
John McInnes, a 46-year-old technician from Cumbernauld, commented: "I hope they are going to finish it because it looks a disaster just
now.
"It's embarrassing bringing friends or relations here. They can't believe the mess of the place."
Receptionist Margaret McGinley, 36, from Larbert, said: "It will look bad for a while, but I think it'll be amazing when they've completed the
renovation work."
The Abellio ScotRail-operated station was used by 15 million passengers in 2016/17, making it Scotland's third busiest station.
One Gatwick Airport passenger who responded to the survey reported that the West Sussex station is "small and cramped" with "long
queues for tickets and overcrowding on platforms".
Another described it as an "appalling welcome to the UK".
Other critical respondents include one who claimed London Victoria is "grubby for what should be a flagship station", and another who
bemoaned the platforms at Cardiff Central for being "very run down".
Transport Focus chief executive Anthony Smith said: "While Glasgow Queen Street is being redeveloped it's vital that the ScotRail Alliance
continues to talk to passengers about the improvements and makes sure staff are on hand to help.
"Investment in stations can improve passengers' satisfaction when targeted at features which make a difference to their experience.
"Passengers' top priorities for stations include arrival time information, waiting rooms and the overall look and feel of the station."
A spokesman for the Rail Delivery Group, which represents the rail industry, said: "As part of the partnership railway's long-term plan, and
to deliver on our commitment to boost local communities, we're investing to improve 178 small and medium-sized stations right across the country."