Forth Road Bridge To Remain Closed For Repairs
11 January 2017, 20:14 | Updated: 11 January 2017, 20:16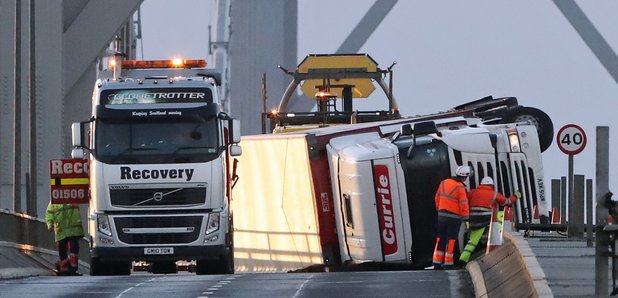 The Forth Road Bridge will remain closed until Thursday as work continues to repair significant damage caused by a lorry blown over in strong winds.
The bridge was closed to high-sided vehicles at the time, around 2am on Wednesday, and the 54-year-old male driver has been charged by police over the incident.
The lorry was lifted by a crane and removed more than 12 hours later, and bridge operators said welders will continue to work through the night on repairs to 40 metres of the central reservation.
It is hoped the bridge will reopen at 6am on Thursday.
Transport Minister Humza Yousaf said the lorry crash was ''a very serious incident'' that showed the consequences of ignoring travel advice during severe weather.
He said: ''Luckily no-one was seriously injured, however a great deal of disruption has been caused and it is an extreme but timely reminder of the importance of listening to advice and checking travel bulletins and VMS messaging before travelling.
''Once again the engineers and Forth Road Bridge team find themselves in the spotlight, and I am hopeful they will be able to get the bridge reopened to traffic as soon as possible, albeit with restrictions in both directions likely.
''They are carrying out very challenging repairs in difficult conditions and the damage to the central reservation is significant.''
Elsewhere, high winds brought travel disruption to roads and rail lines, while power cuts hit other parts of the country.
A gust of 77mph was recorded on Tiree while South Uist was hit by one of 73mph.
A mountain rescue team was called out to Ben Lomond to help four people stranded near the summit in severe weather and successfully resolved the situation.
Severe weather warnings for wind and snow remain in place for Thursday.
Forecaster Craig Snell said there could be ''blizzard-like conditions across parts of Scotland'', leading to ''some very tricky driving conditions''.
There is also a chance of thunder and lightning, which could disrupt the power supply and bring so-called ''thundersnow''.
Rod Dennis, of the RAC, said drivers should be prepared for ''tricky driving conditions and significantly extended journey times''.
Electricity distributor SP Energy Networks urged people to be prepared for power loss by taking steps such as keeping a battery-powered torch to hand, keeping a mobile phone charged, and unplugging powered equipment such as TVs and laptops as well as heaters, electric fires and cookers.
SP Energy Networks director Guy Jefferson said: ''Although power cuts are rare events for most people, it makes sense to be prepared just in case.
''If there is a power outage, our team of engineers are on hand to fix faults and get people's power supply back as soon as possible.
''Our customer service team also work around the clock to keep residents informed, provide advice and take reports of power loss - the quicker we are alerted to a power cut, the quicker we can respond.''