Consultation Over Named Person Scheme
8 September 2016, 16:17 | Updated: 8 September 2016, 16:19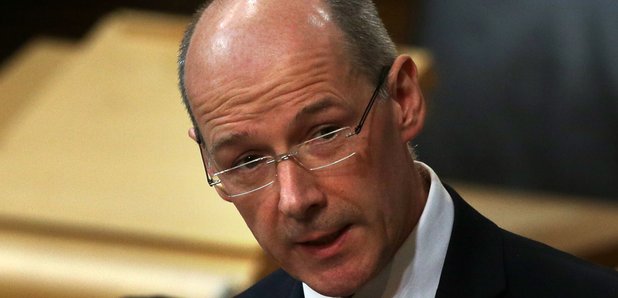 The Scottish Government is to carry out an "intense'' three-month consultation on how to make its controversial named person scheme comply with European human rights law.
Education Secretary John Swinney announced the move six weeks after the UK Supreme Court ruled elements of the policy to be ''incompatible'' with the right to privacy and family life, as set out in the European Convention on Human Rights (ECHR)
The flagship policy, introduced as part of the Children and Young People Scotland Act of 2014, set out to appoint a single point of contact, such as a teacher or health visitor, to look out for the welfare of all children up to the age of 18.
Mr Swinney, also the Deputy First Minister, said that while the Supreme Court had ruled "changes are needed'' to provide greater clarity over data-sharing between health visitors, teachers and other professionals, the Scottish Government was still "absolutely committed'' to the scheme.
He said: "The Supreme Court judgement does not dilute our commitment but it has required us to revise part of the legislation to ensure that it is compatible with the European Convention on Human Rights
"We want the legislation to achieve exactly what the Supreme Court says it needs to achieve.''
Mr Swinney said ministers wanted there to be "a clear consensus across Scotland on how information-sharing should operate'' as he pledged an "open dialogue'' on the issue.
He told MSPs at Holyrood: "For that reason, the Scottish Government will undertake a three-month period of intense engagement in Scotland, we will take input from practitioners as well as parents, charities as well as young people, those who support the named person policy and those who have concerns about it.''
The Scottish Government will also involve the Children's Commissioner and the Information Commissioner as it seeks to deal with the issue "effectively'', Mr Swinney added.
After the legal challenge from opponents, Mr Swinney was forced to act to halt the roll-out of the scheme, which has already been trialled in some parts of Scotland.
It had been due to be introduced across the country on August 31 2016 but Mr Swinney said he now hopes the named person policy can now come into force a year on from that.
"Once that engagement ends and we have an agreed way to proceed I will return to Parliament and announce the next steps in terms of legislation,'' he told MSPs.
"However it is my ambition to work towards a commencement date of August 2017.''