Carmageddon on the M74 as snow causes chaos
17 January 2018, 06:28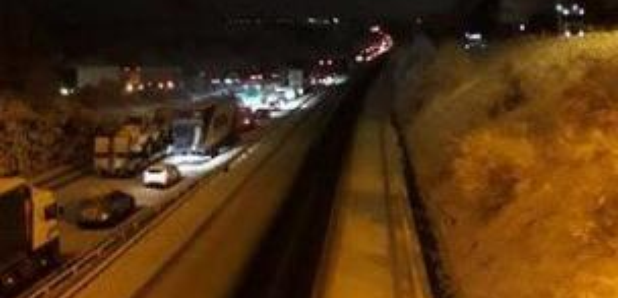 Thousands of motorists and lorry drivers have been stranded overnight on the M74 after snow and ice brought treacherous driving conditions to Scotland.
Mountain rescue teams were drafted in to check on drivers stuck in their vehicles after heavy snow showers hit the area throughout Tuesday evening and into the early hours of Wednesday.
Traffic Scotland closed parts of the motorway in Lanarkshire in both directions due to wintry conditions for a number of hours - with tailbacks stretching back for up to 30 miles.
Moffat Mountain Rescue assisted the operation to get the road clear by walking on the motorway and visiting drivers stuck in the tailbacks.
On Facebook, the team posted: "We appreciate lots of people have been stuck for a number of hours however we now appear to be over the worst of the snow.
"Traffic is now flowing northbound, albeit slowly, and we have a few hours ahead where we don't expect any more snow fall."
Even as traffic started to get moving, problems continued because many people were so exhausted they'd fallen asleep in their vehicles.
The Met Office has issued amber "be prepared" warnings of snow and ice for south-west Scotland and Northern Ireland until 8am.
More than a foot (36cm) of snow was recorded in Eskdalemuir in Dumfries and Galloway, Glenanne in Co Armagh had 23cm, while Tulloch Bridge in Inverness saw 21cm of snow overnight with temperatures as low as -4C, forecasters said.
Elsewhere across England and Wales, the mercury did not reach above 2C.
Meteorologist Alex Burkill said: "There have been plenty of heavy snow showers, particularly across Scotland. It's pretty bleak out there in some places. A good chunk of the UK is effectively covered by snow and ice warning this morning."
Looking ahead for Wednesday, he added: "It is going to be quite windy as low pressure pushes through tonight and that could bring some snow across parts of Scotland and in particular northern England."
Forecasters warned the winds could reach 70mph across northern England and Wales on Wednesday evening - and potentially could be another named storm.
Mr Burkill added: "Once that clears out, we will return to frequent showers pushing in from the north west through Thursday and Friday."
Yellow snow and ice warnings are also in place for northern England and Northern Ireland and much of Wales.
Police Scotland warned there is a high risk of disruption for journeys and said drivers of HGVs should drive with extreme caution.
"Winter driving is a question of common sense and drivers should ask themselves if they really need to travel when conditions are poor," police said in a statement.
"If you are travelling on the roads, you should ensure you and your vehicle are adequately prepared for the conditions, making sure you have sufficient fuel and supplies such as warm clothing, food and water in the event you are delayed for several hours," officers added.