Cancer waiting times 'worst on record' in Scotland
26 June 2018, 12:26 | Updated: 26 June 2018, 12:29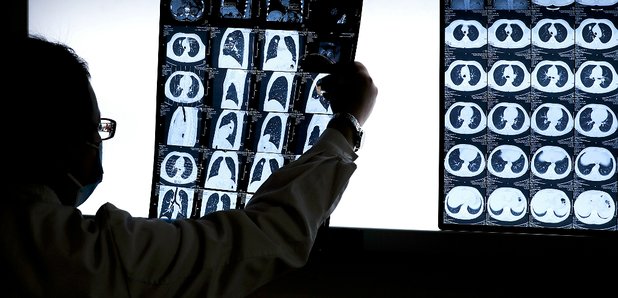 Key cancer waiting time targets have slipped to the worst performance on record, according to the latest figures.
Opposition parties described the statistics as a "national scandal", while cancer charities called for urgent action.
The Scottish Government has already announced extra funding to cut waiting times for diagnostic tests.
New figures show only 85% of patients urgently referred with a suspicion of cancer started treatment within the 62-day standard between January and March - falling short of the 95% target.
The figure was down from 87.1% in the previous quarter and from 88.1% in the same period the previous year.
Meanwhile 93.5% of patients waited no more than 31 days from decision to treat to first cancer treatment, missing the 95% target.
Performance slipped from 94.6% in the previous three months, and was down from 94.8% in the same quarter in 2017.
Only NHS Borders, Lanarkshire and Shetland met the 62-day standard, while 10 out of 15 boards met the 31-day standard.
Breast cancer was the only cancer type to successfully meet the 62-day standard, with 95.1%.
Eight of the 10 reported cancer types met the 31-day standard, with the standard missed in breast and urological cancers.
Gordon McLean of Macmillan Cancer Support said: "There's an urgent need for health boards across Scotland to learn from the areas where targets are being met."
Cancer Research UK said more action was needed in diagnostic services.
The Scottish Government this week announced an extra £6 million to help cut waiting times for endoscopies.
It is hoped the number of people waiting for diagnostic tests will be cut by at least 2,500 by September, and 5,000 by December.
It is part of a £14 million action plan to ensure that those who have been waiting for more than six weeks are seen as a matter of urgency.
Gregor McNie of Cancer Research UK said: "We welcome the Scottish Government's decision to invest £6 million to ensure more patients who need an endoscopy are seen within the target time.
"However, this is just one piece of the puzzle. Similar action is needed across other diagnostic services."
Scottish Labour's health spokesman Anas Sarwar said "having thousands of people wait too long is a national scandal".
"Health Secretary Shona Robison's legacy at health is one of horrendous mismanagement and then total denial over performance," he said.
Scottish Liberal Democrats MSP Alex Cole-Hamilton said new funding was announced because ministers "knew terrible performance figures were set to be published 24 hours later".
"This hustling and scraping is totally the wrong approach to take to our health service and an insult to patients," he added.
Scottish Conservative MSP Miles Briggs said the statistics were "appalling", and called on ministers to explain why they had "let this performance slip so badly".
Health Secretary Shona Robison said: "Boards have given me reassurance that cancer patients continue to be prioritised however performance is simply not good enough in an area of high clinical priority."
Alongside the £14 million action plan, Ms Robison said £25 million would target long waits for treatment in a number of specialities, while a further £25 million later this year would build upon improvements.