Campaigners call for more action after minimum alcohol price introduced
1 May 2018, 15:30 | Updated: 1 May 2018, 15:33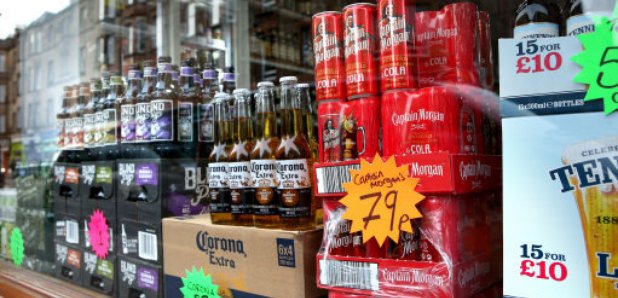 The medical professions and health campaigners have hailed minimum unit pricing as "an important milestone" but urged the Scottish Government to go further to tackle alcohol-related harm.
The policy has wide support from those who argue it will save lives, reduce alcohol-related hospital admissions and ease the pressure on the NHS.
But campaigners have also called on ministers to look at additional measures they believe could further reduce the harm caused by alcohol, such as further restrictions on the marketing and availability of drinks.
Dr Peter Bennie, chair of the British Medical Association (BMA) Scotland, said: "This is an important milestone for Scotland, and many other parts of the world will now be watching the implementation of minimum unit pricing with great interest.
"Importantly, the determination with which minimum unit pricing has been pursued also shows that the alcohol industry cannot expect to successfully block policies designed to protect the health of the public.
"Minimum unit pricing can make a significant impact, but we have always been clear that it needs to be part of a broad range of actions to tackle the harms caused by alcohol misuse.
"As a society we need to be prepared to show the same determination when it comes to taking further action."
Dr Peter Rice, chair of Scottish Health Action on Alcohol Problems (SHAAP), which represents the Medical Royal Colleges in Scotland, said: "Doctors, nurses and other health professionals experience first-hand the consequences of having cheap alcohol widely available, with the harms affecting the poorest and most vulnerable communities in Scotland.
"We are all hoping that we will soon start seeing fewer patients in our surgeries and hospital wards suffering from alcohol-related harms, and we look forward to that."
SHAAP said it would continue to press the Scottish and UK Governments to take further action, including restricting the marketing of alcohol and improving services and support for people with alcohol problems.
Alison Douglas, chief executive of Alcohol Focus Scotland, said it was "a great day for Scotland's health".
She said: "Like the smoking ban, this policy will save hundreds of Scots' lives and improve the lives of thousands more. It is a triumph for public health and democracy - and a testament to the First Minister's tenacity - that this policy is finally being implemented after 10 years of campaigning.
"A global first, this lifesaving legislation will particularly benefit those in our poorest communities who are six times more likely to die and eight times more likely to be hospitalised due to alcohol than those in our most well off communities."
Police Scotland Assistant Chief Constable Gillian MacDonald added: "Through public consultations, communities throughout Scotland have made it clear that tackling violence and disorder is of paramount importance.
"Excessive consumption of alcohol is often directly responsible for such criminal acts and therefore Police Scotland supports any measure that could potentially have a positive impact on alcohol fuelled crime and disorder."
Norman Loughery, off-trade sales director at C&C, the owner of Tennent's, also welcomed the move.
He said: "Today is a landmark day for Scotland.
"We've been supporters of Minimum Unit Pricing since it was first proposed in 2011 and have worked closely with the Scottish Government and our customers around its successful implementation".