19 In Hospital After Leisure Centre Chemical Leak
25 August 2015, 16:31 | Updated: 30 March 2016, 13:50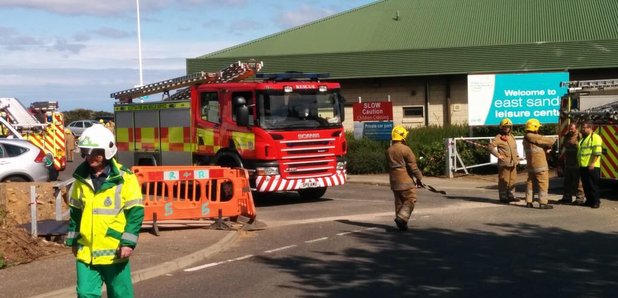 Nineteen people have been taken to hospital after a chemical leak at a leisure centre.
East Sands Leisure Centre in St Andrews, Fife, was evacuated and ambulance and fire crews alerted at about 1pm.
The Scottish Fire and Rescue Service (SFRS) said 19 visitors and staff are being treated for ``minor breathing irritation'' following the incident at the centre on St Mary's Street.
Reports suggest the chemical may be sodium hypochlorite, commonly used as a disinfectant, but the SFRS said tests had still to be carried out.
Pictures from the scene showed a number of fire engines around the building with officers in chemical suits entering the centre through a yellow tent erected at the main door.
The Scottish Ambulance Service said they were called to reports of people showing symptoms of having been exposed to a chemical leak.
An SFRS spokesman said: "We can confirm that there are 19 casualties who have been taken to hospital.
"SFRS committed three breathing apparatus teams in gas-tight suits to isolate the power in the plant room and search the building. All persons were accounted for.
"There are currently 13 SFRS appliances in attendance including five pumping appliances, a control unit, an emergency support unit and a hazardous materials appliance.''
East Sands has a leisure pool, gym, spa and sauna.
Eyewitnesses reported several people covered in blankets and receiving attention from ambulance staff.
Sophie Watson, 29, who was at a gymnastics class with her son Alfie when the centre was evacuated, told the Courier newspaper: ``We were just told we had to get out and all sent out to the front of the building.
"Fire engines started turning up and we kept getting told to move further and further back.''
Local resident Robert Ovenstone, 46, told the paper: "The is the first time I've seen anything like this in eight years. I saw men in big green bio suits and people brought out in their swimwear.''
A Fife Sports and Leisure Trust spokeswoman said: "At approximately 1pm today, emergency services were called to East Sands Leisure Centre in St Andrews following a suspected chemical leak.
"All customers and staff were able to evacuate the building safely without assistance, however, 19 people, including two members of staff, were referred for medical assistance for minor breathing irritation.
"Emergency services and staff are still on site but all customers have left the area. The exact cause of the incident is still being investigated by the emergency services and there is no threat to the surrounding area.
"We will continue to work with emergency services and will keep customers updated as to the status of the centre via our website.''