Paralysed Mum Starts Great North Run
7 September 2016, 14:36 | Updated: 7 September 2016, 14:37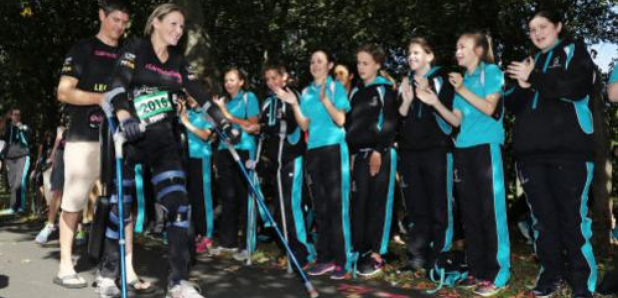 A paralysed former horse rider has started the Great North Run five days early hoping to complete it wearing a ``bionic suit''.
Claire Lomas, 36, who was paralysed from the chest down in a riding accident in 2007, is aiming to walk three miles a day and finish on Sunday, the day of the race.
The mother-of-one, from Melton Mowbray, Leicestershire, also completed the London Marathon in 17 days while wearing the ReWalk robotic exoskeleton - a body brace which allows her to move her legs using computer controls.
She said:
``Today I'm starting the Great North Run five days early, aiming to finish on the day everyone else will be running. It's exciting but going to be a hard, tough journey to get there."
``I find it seriously challenging walking in the suit. I'm paralysed from the chest down and have no movement or sensation so I can't feel the ground beneath me."
``When I was in hospital, I looked around and even though it was a huge injury to come to terms with I felt genuinely lucky I had the use of my arms and could see people who weren't able to wipe their own tears away, so I decided to do what I can to cure paralysis.''
Since her accident nine years ago, Ms Lomas has raised more than £500,000 for the Nicholls Spinal Injury Foundation.
As she makes her way along the 13.1 mile course from Newcastle to South Shields, she will be visiting schools on Tyneside along the route.
She continues:
``After London, I did 400 miles on my hand bike around the UK and visited schools to talk to them about how I dealt with my accident, what I've done since and to never give up, so that's what I'm doing again during the Great North Run."
``Rebuilding my life was the darkest time and the hardest time. Now I'm in a better place, I've got my little girl, so it's very different. If I can go into the schools and help one person then it's a brilliant feeling. I feel in a fortunate position to be able to do that.''