Paedophile Jailed After Online Sting
31 July 2015, 16:55 | Updated: 30 March 2016, 13:50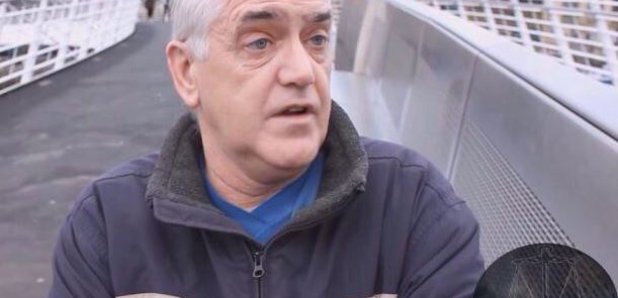 A desperate paedophile has been jailed after he fell for an online sting by the group Dark Justice despite him suspecting an agreed meeting on Newcastle's Millennium Bridge was a police set-up.
Barry Scott, 50, bought vodka and condoms after arranging to meet a 14-year-old girl called Donna he had been chatting to on a dating site and via WhatsApp messages.
When he turned up on the Millennium Bridge over the Tyne in Newcastle in November, he was shocked to find Donna was not real, and two 20-something North East men who set up the organisation Dark Justice were waiting to interview him on camera.
Newcastle Crown Court heard how Scott, a divorced father of two from Warwick Road, Wallsend, North Tyneside, was surprised despite having at times suspected that ``Donna'' might be working for the police.
Judge Robin Mairs jailed Scott for 12 months after the defendant admitted attempting to meet a girl under 16 following sexual grooming.
Andrew Walker, prosecuting, explained how Dark Justice set up profiles on dating websites, pretending to be under age girls, then wait for men to make contact.
Scott got in touch with the Donna profile, which was advertised as being a woman aged 19, but he continued to communicate with it despite being told ``she'' was really only 14, the court heard.
Messages from Scott became more sexualised.
Scott wanted to meet up, but Mr Walker said: ``There is then some concern raised by the defendant that in fact Donna might not be genuine, that she may be trying to trap men for the police.''
But he was convinced by Dark Justice's denials, and after further sexual messaging to the fake profile, he went ahead with the meeting, telling Donna to ``wear something sexy''.
He also asked if she was on the pill, and he offered to get vodka and condoms for when they went back to his house.
Five days after Dark Justice confronted him on the bridge, Northumbria Police arrested him.
Mr Walker said: ``He accepted that he had arranged to meet what he thought was a 14-year-old having discussed full sexual intercourse.''
Peter Schofield, defending, said Scott lived an isolated life and his initial intention had been to meet adult women for dates. ``It is the greatest of pities he did not have the good sense to cease from having any further involvement in this matter,'' he said.
Mr Schofield said Scott was ``deeply remorseful'', and said ``he was so stupid for getting himself into this position and he did not know why he did it''.
Judge Mairs accepted Scott believed at first he was talking to an adult, but he carried on the conversation when he was told Donna was underage and he quickly turned the conversation to sex.
Jailing him for a year, the judge said: ``These matters are so serious there must be an immediate custodial sentence.''
He was put on the Sex Offenders' Register for 10 years.
The two Dark Justice campaigners were in court for the hearing - the fifth jail sentence to arise from their activities.
One said: ``This goes to show the way we do things is accepted in a court of law.
``Justice should be served by a judge, not on Facebook and social media.''
The other said: ``Our evidence is watertight and professionally gathered.''
They said it was remarkable how Scott went through with the meeting, despite his suspicions. ``Even though he probably knew he would get caught, he still came,'' one said.