Glastonbury Proposal
26 June 2015, 08:10 | Updated: 30 March 2016, 13:50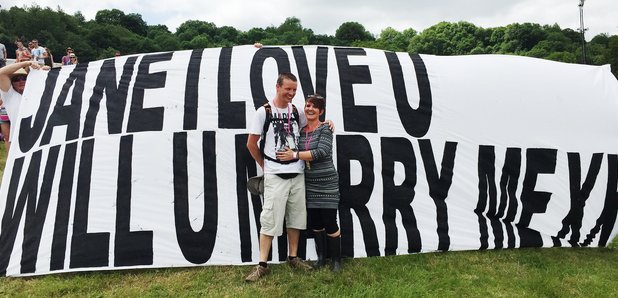 The summer of love was in full swing at Glastonbury Festival with the sprawling fields the romantic setting for a marriage proposal
Jane Shannon, 45, said yes to Mark Goddard, 43, after he took her to the top of a viewing tower while his friends unfurled a huge ``marry me'' banner a couple of hundred yards away, beneath the Hollywood-style Glastonbury sign.
Ms Shannon, who had to be persuaded to scale the Ribbon Tower in the Park area because she is afraid of heights, said she had no idea what was about to happen.
Moments after the proposal, she said "I was just looking out over the hill and I saw the sign.
"When I turned around, Mark was down on one knee.''
A wave of cheers echoed around the festival after revellers realised what had happened.
When the couple, from Chester-le-Street in County Durham, reached the bottom of the tower, Mr Goddard beamed, exclaiming: ``She said 'Yes!'''
He said he had been planning the proposal for around a year and bought the ring months ago, but his plan was scuppered six times yesterday when the Ribbon Tower was closed every time they tried to climb it.
The IT worker said he created the 11-metre banner - which read "Jane I love u. Will u marry me xx'' - at a friend's garage instead of going to work last week.