Dog Mauled To Death In Manchester
28 June 2013, 14:42 | Updated: 30 March 2016, 13:50
A woman has been left horrified after her dog was mauled to death in Manchester.
It happened in Spinningfields on Bank Holiday Monday, last month.
24-year-old Stephanie Hopwood from Sandbach, was out with her 18-month-old toy Yorkshire Terrier Daisy, when it happened.
Daisy was on her lead when she was attacked and mauled to death by the other dog which was not on a lead.
After the attack the owner put his dog back on its lead and they both walked off passed Manchester Crown Court.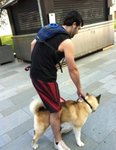 Stephanie managed to take a photo of the other dog, believed to be an Akita-type breed and its owner.
PC Gavin Johnson, based at Bootle Street Police Station said: "This poor dog was mauled to death in front of both the owner and shocked onlookers.
"I have absolutely no doubt that anyone who saw this would have been horrified and no doubt, the image would have stayed with them.
"Since this happened we have spoken to a number of witnesses and have been working to identify the owner. Now we have taken the decision to release these photos as we want the public's help to identify this man and his dog.''