Arena Attack Anniversary Plans Revealed
29 March 2019, 07:10 | Updated: 29 March 2019, 07:17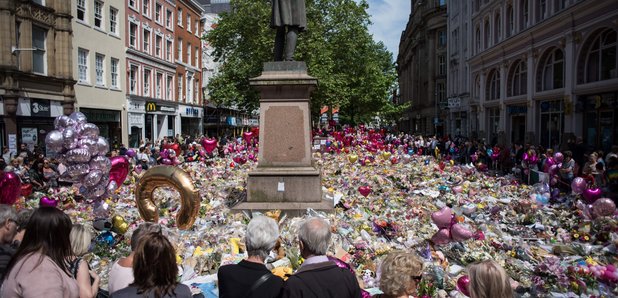 There will be a memorial service at St Ann's Church in the centre of Manchester on the second anniversary of the Manchester Arena terror attack.
The civic service will be held at 2pm on the 22nd May.
It has been agreed with the families that the service will be a personal and private event for the families who lost loved ones, those injured and representatives of those who were first to respond.
Last year a series of high profile events were held to mark the 1st anniversary of the bombing that killed 22 people. This time round in consultation with families it has been agreed that this year's anniversary will be more intimate.
Like last year, at 10.31pm on 22 May - the exact anniversary - bells will ring out from buildings across the city centre including Manchester Town Hall, Manchester Cathedral and St Ann's Church.
Manchester Cathedral will also be open throught the day on 22nd May for anyone wanting to spend time in quiet reflection and prayer.
Sir Richard Leese, Leader of Manchester City Council, said: "Manchester will never forget the terrible events of 22 May 2017 nor the remarkable display of unity and love which followed.
"Those who were killed and their loved ones, as well as all those left physically or mentally injured, have a place in our hearts not just on the 22 May but every day.
"The anniversary has a particular resonance but especially for the families who lost loved ones. As always, their views are paramount in our considerations.
"Everyone's experience of the terrible events of 22 May 2017 was different and we recognise and respect that others may wish to mark it in their own ways.
"We are also making progress towards a permanent physical commemoration in the city, a space which will be a focus for reflection and remembrance. "
A site's now been earmarked for the memorial to the victims after talks with families.
It'll be created on land between Hunt's Bank and Deansgate, close to the Arena and Cathedral and near the River Irwell, more details are expected ahead of the anniversary.
Professor Malcolm Press, chair of the Manchester Memorial Advisory Group, said: "We have listened carefully to a range of views, most importantly those of the bereaved families, about our whole approach to a memorial.
"One of our guiding principles throughout has been to ensure that what is arrived at is both fitting and lasting. It is not a process to be rushed, but we are making good progress. We have taken a significant step in agreeing a location and we look forward to giving further progress updates soon."