Three Charged Over Leicester Explosion
4 March 2018, 06:47 | Updated: 4 March 2018, 07:25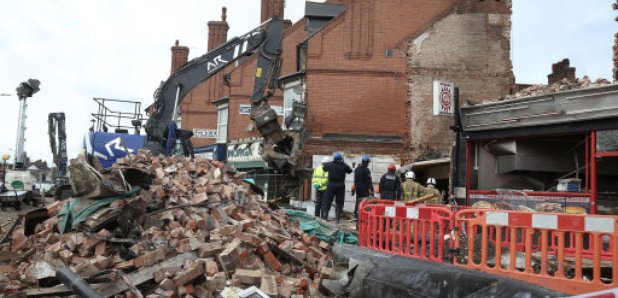 Five people have been confirmed dead after the explosion and fire at a shop and flat in the city a week ago
Three men who were arrested on Wednesday in connection with the explosion at a building on Hinckley Road, which left five people dead and a number of people injured, have been charged.
They have all been charged with five counts of manslaughter and with arson with intent to endanger life.
They remain in custody and will appear before Leicester Magistrates on Monday 5th March.
The men are from different parts of the UK:
Aram Kurd, 33, of Hillary Place, Leicester
Hawkar Hassan, 32, of Eld Road, Coventry (originally thought to be from East Anglia)
Arkan Ali, 37, of Drake Close, Oldham
Two other men from East Anglia remain in police custody and continue to be questioned by detectives.
Leicestershire Police said:
"Throughout this complex investigation we have been urging journalists and members of the public not to speculate about the cause of the explosion.
"With three people now charged and due in court, it becomes even more important, for legal reasons, that this message is heeded.
"A continuance of such ill-informed and speculative commentary threatens to jeopardise this investigation and serves only to cause further distress to the families of those killed and injured."
HERE is how the explosion unfolded a week ago.