Nottingham Mum Gets Life Sentence For 'Savage' Murder
11 April 2016, 17:11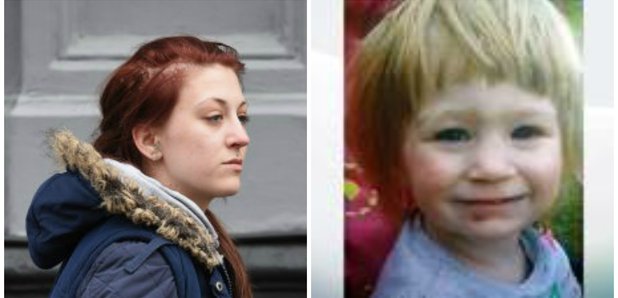 21 month old Ayeeshia Jane Smith died at the family home in 2014 from a heart laceration
UPDATE 11TH APRIL
A mother has wept in court as she was jailed for life for killing her toddler daughter in "an outburst of savage violence".
A judge branded Kathryn Smith "a devious, manipulative and selfish young woman" - sentencing her to a minimum of 24 years for the murder of 21-month-old Ayeeshia Jane Smith.
Smith, 23, was convicted by majority verdict at Birmingham Crown Court on Friday after a six-week trial of her and ex-partner Matthew Rigby, 22.
Rigby - convicted of causing or allowing Ayeeshia's death at the family home in Burton-upon-Trent in Staffordshire - was jailed for three years and six months.
Smith - who now lives in Nottingham- was in tears throughout the sentencing, as judge Mrs Justice Geraldine Andrews said Ayeeshia was a "frail little girl (who) was viciously crushed" in her own bedroom, surrounded by her toys.
The judge said Smith had been prepared to tell "lie after lie" in an effort to escape punishment and had failed to make her daughter's wellbeing a priority in her life.
Robert Wade spoke to Capital on behalf of the family. They believe someone should be held accountable within the social services for allowing the death of AJ while under a supervision order.
Jon Brown from the NSPCC has told Capital how lessons do need to be learned in the case of Ayeeshia.
He believes that in many cases where the social services are involved, it is best for local authorities to be overly cautious in an attempt to protect the child.
Ayeeshia was in care for a period of time but months before her murder, was returned to her mother and step father.
Andrew Stokes, interim chairman of Derbyshire Safeguarding Children Board, said:
"The death of a child is a tragedy and I'd like to express my deepest sympathies to everyone who knew AJ.
"All the agencies involved with the family have contributed to a serious case review which has been held to identify any lessons that can be learned.
"New information has emerged during the criminal trial which we need to consider before we can publish the findings of the review to ensure it is as robust and fully informed as possible.
"It is important that we take the time to look at this thoroughly to ensure we maintain the highest possible standards to safeguard children and young people across Derbyshire."
**
UPDATE APRIL 8TH
A Nottingham woman has been found guilty of murdering her 21-month-old daughter, who prosecutors said had been stamped to death.
She sat crying with her head in her hands as the jury found her guilty of murder by majority verdict.
Ayeeshia Jane Smith died at the family home in Burton-upon-Trent in Staffordshire in 2014.
Her mum Kathryn Smith, who's 23, has also been found guilty of cruelty.
Step dad and former partner to Kathryn, Matthew Rigby has been found guilty of causing or allowing the death of a child.
During the trial, Dr Kathryn Ward, a consultant paediatrician at Yorkshire's Airedale General Hospital with 29 years' experience, gave her expert view of the wounds as a prosecution witness.
Dr Ward said:
"This is not the sort of injury that occurs in a household on a day-to-day basis."
A post-mortem examination revealed further injuries, including an historic bleed on the brain. Dr Ward said it was "possible and probable" this was linked to Ayeeshia's collapse at the family home on February 3, three months before her death.
Dr Ward said the symptoms reported at the time by paramedics - Ayeeshia being floppy and looking blue - were "cardinal features" of what paediatricians generally termed an "apparent life-threatening event".
Both Smith and Rigby will be sentenced on Monday 11th April.