Hillsborough Inquest Rules 96 Liverpool Fans Were Unlawfully Killed At The FA Cup Semi Final Against Nottingham Forest
26 April 2016, 12:18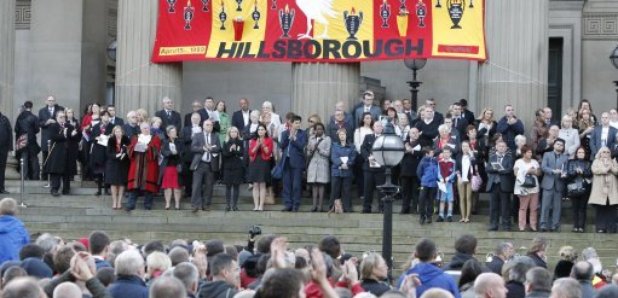 The Hillsborough inquest has taken 2 years to conclude, making it the longest running inquest in British legal history
The 96 Liverpool fans who died in the Hillsborough disaster were unlawfully killed, the inquests jury has concluded.
The jurors were told they could only reach that determination if they were sure of four 'essential' matters concerning the deaths at the 1989 FA Cup semi-final against Nottingham Forest.
They had to be convinced that overall match commander Chief Superintendent David Duckenfield owed a duty of care to those who died in the disaster, and that he was in breach of that duty of care.
Thirdly, they would need to be satisfied that his breach of duty caused the deaths and, fourthly, that it amounted to ``gross negligence''.
They concluded it was unlawful killing by a 7-2 majority.
The jury also ruled that fan behaviour did not cause or contribute to the tragedy.
Nottingham Forest fan Gary Morley was there on April 15th as thousands of fans were crushed at Sheffield Wednesday's ground.
He tells Capital what he witnessed:
Mr Duckenfield gave the order at 2.52pm to open exit Gate C in Leppings Lane, allowing around 2,000 fans to flood into the already packed central pens behind the goal.
Jurors sitting in Warrington, Cheshire, agreed the tragedy happened "as a result of crushing in the central pens of the Leppings Lane terrace, following the admission of a large number of supporters to the stadium through the exit gates".
And they answered yes to the question: "Was there any error or omission in police planning or preparation which caused or contributed to the dangerous situation that developed on the day of the match?".
They were the first of 14 general questions they were asked, with others covering stadium safety, the emergency response to the disaster and whether the fans were unlawfully killed.
Liverpool fans and victims have taken to Twitter to voice their relief...
Justice finally. #JFT96

— Jamie Carragher (@Carra23) April 26, 2016
Justice finally #JFT96 #Hillsborough #YNWA

— Ads (@adam_ssfc) April 26, 2016
This is a victory for the victims, the families, the fans who went, the fans who still go and football in general. #JFT96 #Hillsborough

— Pete Brown (@TheTallLankyOne) April 26, 2016
These people were there that day in 1989 and tell Capital exactly how things unfolded: