East Mids Families Await Iraq War Inquiry
6 July 2016, 06:00 | Updated: 6 July 2016, 11:51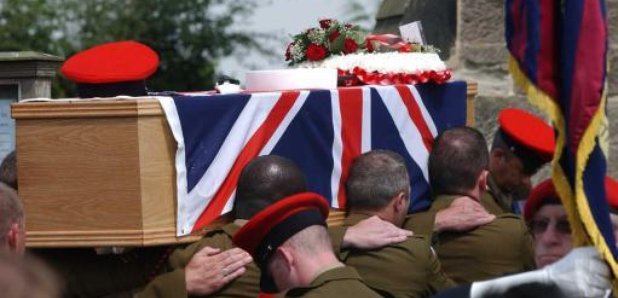 Sir John Chilcot will publish his findings into why we went to war with Iraq and if there were weapons of mass destruction
The Chilcot Inquiry, so named after it's author Sir John Chilcot aims to look at Britain's involvement in Iraq between mid-2001 and July 2009.
It covers the run-up to the conflict, the subsequent military action and its aftermath with the purpose to establish the way decisions were made, to determine what happened and to identify lessons to ensure that in a similar situation in future, the British government is equipped to respond in the most effective manner in the best interests of the country.

Capital's been speaking to the East Midlands Campaign for Nuclear Disarmament ahead of Chilcot Report:

Eight military personnel were from the East Midlands, one of them was Corporal Russell Aston, from Swadlincote, Derbyshire, who was one of six Red Caps killed when they were set upon by a 400-strong mob in Iraq in 2003.
He left behind his wife Anna and their daughter, Paygan.
On the MOD website his wife Anna, and parents Glenice and Mike, issued the following statement:
"Russ was a very handsome man who was loved by everyone who knew him. He was such a kind and special person with a smashing sense of humour, he could get on with anyone he met.
"He was a doting father who had lots and lots of friends. When he walked into a room he filled it with his height and presence.
"He loved his life in the Army. He was very fit and sporty. He recently ran 31 miles to raise funds for Gresley Rovers, a local junior football team, to provide them with kit.
"When he was in the Grenadier Guards, he was a physical training instructor and in fact when he passed his Army Training Course, he was commended as the Best Physical Training Cadet.
"He loved animals, was a caring person and although he looked tough, had a heart of gold and was loving and sensitive."
East Midlands Roll Call:
:: Lieutenant Philip Green, 30, of Caythorpe, Lincolnshire. 849 Squadron, RNAS Culdrose. (March 2003)
:: Corporal Russell Aston, 30, of Swadlincote, Derbyshire. Royal Military Police. (June 2003)
:: Captain David Jones, 29, of Louth, Lincolnshire. Queen's Lancashire Regiment. (August 2003)
:: Private Adam Morris, 19, of Leicester. 2nd Battalion, The Royal Anglian Regiment. (May 2006)
:: Marine Jason Hylton, 33, of Burton on Trent. 539 Assault Squadron Royal Marines. (November 2006)
:: Sergeant Wayne Rees, 36, of Nottingham. The Queen's Royal Lancers. (January 2007)
:: Leading Aircraftman Martin Beard, 20, of Rainworth, Nottinghamshire. No 1 Squadron Royal Air Force Regiment. (August 2007)
:: Senior Aircraftsman Christopher Dunsmore, 29, of Leicester. 504 Squadron Royal Auxiliary Air Force Regiment. (July 2007)