Wolverhampton Stabbing: Brother Killed His Sister Before Turning Knife On Himself
8 March 2017, 20:04 | Updated: 8 March 2017, 20:17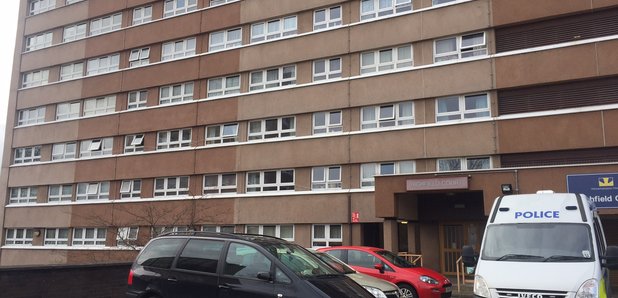 The victims of a deadly stabbing in Wolverhampton were the mother and the sister of the knifeman, who later turned his blade on himself, police said.
The 33-year-old sister of the attacker - who set upon his relatives in a first-floor flat on Wednesday morning - was killed, while their mother, 59, is fighting for her life in hospital.

Following the bloody confrontation, the 36-year-old man also died from what were believed to have been self-inflicted wounds, West Midlands Police said.
Armed police used stun grenades to distract the attacker as they stormed Highfield Court, a 16-storey block in Leasowes Drive, in the Merry Hill area of the city.
Residents have been speaking to Capital outside:
Student Natalie Law lives opposite the flats where two people have been stabbed to death in #wolverhampton this morning. @CapitalBIRNews pic.twitter.com/AO7YDMnsga

— Tom Bushell (@TomBushell92) March 8, 2017
The knifeman's mother was left with a serious stab wound to her stomach and remains in a critical condition after being operated on at Queen Elizabeth Hospital Birmingham, police said.

One officer responding to reports of the attack at 9.45am received a small knife wound to his arm and another sustained a leg injury.

Wolverhampton Police Superintendent Keith Fraser, said: "Our officers knew there was an armed man behind the front door of that flat; they acted swiftly and with huge courage to quickly gain entry and later detain the man.

"Local officers, response colleagues and firearms officers were all involved in the operation.

"This is a truly shocking incident and our sympathies go out to the friends and family of those involved."
The attack has been referred to the Independent Police Complaints Commission (IPCC), the watchdog said.

Post-mortem examinations will take place on Thursday, police said.

The IPCC said it had sent investigators to the scene.

IPCC commissioner Derrick Campbell said: "These were traumatic events in Wolverhampton this morning and my sympathies go out to all those affected.

"Our investigators are now busy conducting initial inquiries to gather a full picture of the police involvement in what unfolded.

"It is proper that in such a serious incident as this there is independent scrutiny of what took place."

Armed officers were outside the Highfield Court block of flats on Wednesday morning as residents watched, with three air ambulances on a field in nearby East Green.

Three land ambulances were also sent to the scene, West Midlands Ambulance Service added.