Three Police Officers Cleared Of Lying Over Death Of Kingsley Burrell In Birmingham
5 October 2017, 08:55 | Updated: 5 October 2017, 09:08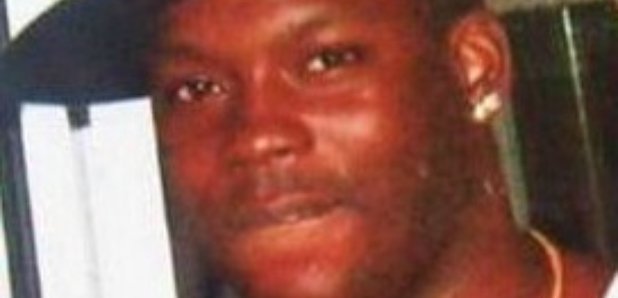 Three police officers have been cleared of lying to an inquest into the death of a patient at a mental health unit.
Paul Adey, 36, Mark Fannon, 45, and Paul Greenfield, 50, were acquitted by a jury at Birmingham Crown Court of charges of perjury and perverting the course of justice.
The prosecution had alleged the men told repeated lies about a cloth covering placed over the head of Kingsley Burrell in 2011.
The three-week trial was told that numerous witnesses saw Mr Burrell's head or face covered with either a towel, sheet or blanket when he was placed in a seclusion room at Birmingham's Oleaster mental health unit.
West Midlands Police constables Adey, Fannon and Greenfield were alleged to have lied during an initial inquiry into the death and at the subsequent coroner's hearing.
Jurors deliberated for almost 10 hours before clearing the officers, who all denied both charges.
CCTV evidence presented in court showed Mr Burrell with a white head covering as he was led out of an A&E ward on March 30 2011.
The 29-year-old died in hospital the following day after being found unresponsive at the Oleaster unit following his transfer from Mary Seacole House, a mental health unit in the Winson Green area.
The 2015 inquest found neglect by police, paramedics and hospital staff played a part in the death of Mr Burrell, who had been sectioned under mental health laws.
Commenting after the acquittal of the response officers, West Midlands Police Deputy Chief Constable Louisa Rolfe said: "Our officers had a number of interactions with Mr Burrell in the four days prior to his death so we voluntarily referred the case to the Independent Police Complaints Commission.
"We have fully co-operated with all requests made by their investigators.
"The role these three officers played in the detention of Mr Burrell has now been thoroughly examined by independent investigators - and there has never been any suggestion they were criminally responsible for Mr Burrell's death.
"We do not under-estimate the impact this investigation has had on Kingsley's family, the wider community and the officers."
An investigation by the Crown Prosecution Service in 2014 concluded there was insufficient evidence to prosecute anyone over Mr Burrell's death.
Ms Rolfe added: "The misconduct position against the officers has been stayed whilst the criminal process has been conducted; now proceedings are complete we await the IPCC's conclusions regarding misconduct matters."
Speaking outside court, Mr Burrell's relatives and supporters, including his sister, Kadisha Brown-Burrell, and mother, Janet Brown, expressed disappointment at the verdicts.
Family spokesman Desmond Jaddoo called for a fresh review of all the evidence surrounding Mr Burrell's death.
He also renewed a call, first made after the inquest, for a full public inquiry into the circumstances of the father-of-three's treatment.
Mr Jaddoo said: "The damning narrative verdict of neglect (at the inquest) against West Midlands Police, West Midlands Ambulance Service, Birmingham and Solihull Mental Health NHS Foundation Trust and the NHS is yet to be acted upon.
"We now request that the Home Secretary now place our 2015 request for a public inquiry into these systemic failings back on the agenda, as promised, following the conclusion of these proceedings."
Responding to the family's call for a further review, the Crown Prosecution Service (CPS) said: "There remains insufficient evidence to provide a realistic prospect of conviction against any officers or medical health professionals involved in the restraint and treatment of Kingsley Burrell."
A CPS spokesman said: "In 2014, the CPS concluded that there was insufficient evidence to prosecute anyone for unlawful act manslaughter, gross negligence manslaughter, misconduct in public office, ill-treatment of a mentally disordered patient, or assault.
"An inquest into the death of Mr Burrell then took place in 2015, which led to a complaint being made by family representatives that three police officers had given perjured evidence.
"The IPCC investigated the complaint and in October 2015 referred the case to the CPS for a second time to consider offences of perjury and perverting the course of justice.
"Having considered the evidence, we authorised criminal charges against three officers from West Midlands Police in October 2016 for perverting the course of justice and perjury.
"We also concluded that our 2014 decision was correct and that there was no significant new evidence arising out of the inquest to justify a reversal of our decision in 2014.