Thousands To Cycle In Velo Birmingham
22 September 2017, 06:00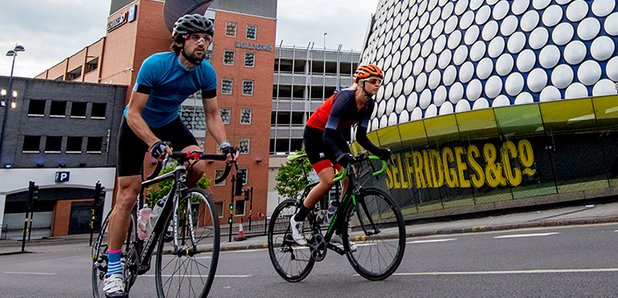 15,000 cyclists will line up in the heart of Birmingham this Sunday for a 100 mile bike ride around the West Midlands. Here's all you need to know:
THE ROUTE -
The 100 mile course covers city and country roads across Birmingham and the Black Country, Staffordshire and Worcestershire.
Starting and finishing off on Broad Street - in the heart of Birmingham - riders will climb more than 1700metres as they travel through the likes of Bewdley, Halesowen and Droitwich Spa.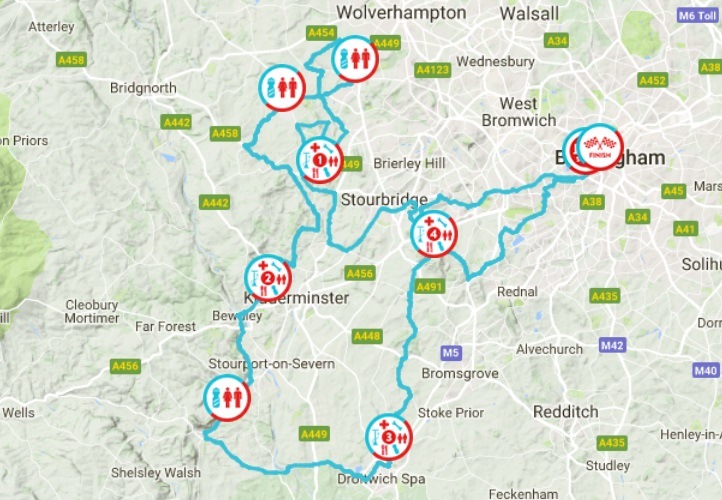 RIDERS
With thousands taking part there will be NO REGISTRATION available on Sunday 24th September.
Riders are asked to register at Arena Birmingham between 8am and 8pm on Saturday 23rd - with your photo ID and ride number.
If you're unsure on your start times then click here.
ROAD CLOSURES -

With thousands of people taking to our roads it's inevitable there will be closures across the route.
All roads used as part of the route for Vélo Birmingham will be closed for the event. Vehicles won't be allowed to cross the route while they're in place but local access will be available for as long as possible.
Road closures will start from 5am across Birmingham with the exception of a small section of Hagley Road between Monument Road and the Five Ways Roundabout which will close at midnight.
From 6 - road closures will be put in place across Worcestershire, Staffordshire, Sandwell and Dudley.
Roads will begin to re-open systematically from 11:00 as the event progresses along the 100 mile course. Please note that road closure lengths will differ depending on the location of the route.
There will be some disruption caused by the road closures but, by planning ahead and looking for alternative routes, the impact on affected residents and businesses can be minimised - while the roads are closed, residents will not be able to drive through barriers or road closures.
Some public transport will be diverted or suspended - so please plan ahead!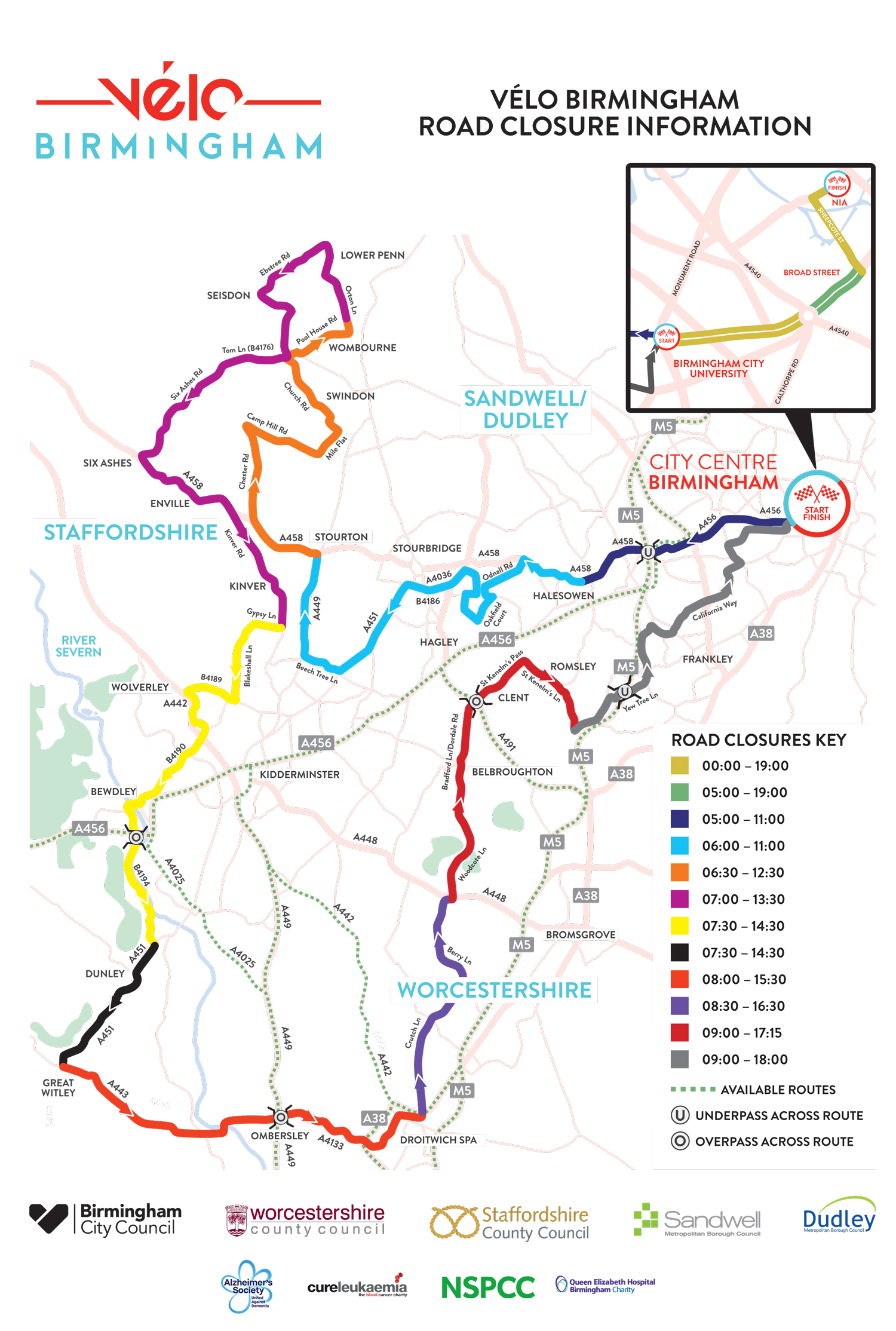 CAR PARKING -

There are a lot of parking spaces available for those taking part.
General Entry Riders can pick from four car parks;
Broadway Plaza - B16 8LP
Open from 00:00-23:59.

0.2 miles from start line.

2m height restriction.
Warwickshire County Cricket Club - B5 7QU
Open from 05:00-20:00.

2.4 miles from start line.

No height restrictions.

Best for those travelling from the south.
Curzon Street - B4 7XE
Open from 05:00-19:00.

2.0 miles from start line.

No height restrictions.

Best for those travelling from the north.

Calthorpe Park - B12 9HD
Open from 05:00-20:00.

1.7 miles from start line.

No height restrictions.
Spaces are available for £10.00 and can be pre-booked on the Velo Birmingham website.
Fast Track Riders should already have their free car park pass for this weekend's event.
They'll be able to park in the multistory at Arena Birmingham (NIA).
You must arrive before 6am due to road closures and roof racks won't be allowed - due to height restrictions.