Six Year Old Boy 'Flipped' In The Air By Off-Road Biker In Lozells
1 July 2018, 06:20 | Updated: 1 July 2018, 06:31
It happened as he walked with his dad and baby brother last week
Police in Birmingham are still trying to track down an off-road biker who mowed down a 6 year-old boy in a park, and left him with a serious leg injury.
Mikaeel Miah was in Burbury Park in Lozells on Saturday 23rd June with his dad and baby brother, when he was hit by a scrambler bike that was being raced around in circuits.
The schoolboy was flipped in the air and the bike rode off.
Mikaeel needed emergency surgery to put metal plates and pins into his badly injured leg. His dad has been warned there is a chance his son could suffer permanent mobility difficulties as a result of the collision.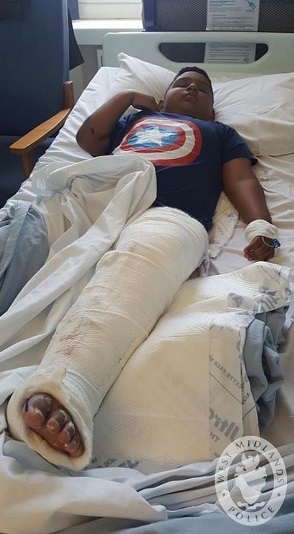 The biker is thought to be from the local area and had been hanging around with a group of people near Melbourne Avenue not long before the hit and run.
He was wearing a green helmet and the bike, believed to be a scrambler or pit-bike, is described as having some orange parts.
Local neighbourhood police Sergeant Martin Williams urged members of the public to come together and help find the culprit:
"We're not interested in who provides the information; we don't need their names, phone numbers and they will not be visited by police − we just want to know who is responsible.
"This is a truly callous offence: a man, or possibly a teenager, riding a bike recklessly in a public park has knocked down a little boy and left him with very serious injuries. It's hard to imagine what kind of person would do this and then drive off, leaving the boy writhing in agony on the floor.
"We believe the offender is local to the Lozells area and I suspect many people know who is responsible. I would ask them to do the right thing and contact us if they suspect who was involved or if they know where the bike is being stored.
"The offender does not deserve any protection; we need to find him as he is clearly a risk to children in the area."