Sheffield Man Guilty Of Toddler Lylah Aaron's Murder
5 November 2013, 16:36 | Updated: 30 March 2016, 13:50
31 year old Delroy Catwell was looking after 3 year old Lylah Aaron while her mum was working at Derby Royal Infirmary where she was a student nurse.
While in his care she suffered severe head injuries and 3 broken ribs and died later in her mum's arms in hospital.
During the trial, the court heard how Lylah's mum Precious Chibanda had left early that morning on 8 February to go to work in Derby.
Her boyfriend Delroy Catwell phoned her at around 2.30pm to say that Lylah had been too tired to leave the home at Beck Road in Shiregreen.
When Precious returned sometime between 4pm and 4.30pm she went to check on Lylah, who was in bed and appeared to be sleeping.
She checked a second time and her daughter still seemed to be sleeping, as Catwell had described.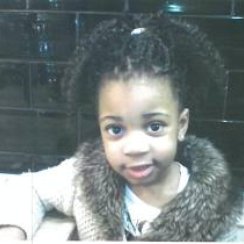 Then about an hour later, Precious was going to look in on Lylah again but was persuaded by Catwell, himself a parent, to leave her a little longer.
Just before 6pm, a horrified Precious found Lylah unresponsive and immediately rang the emergency services.
Former DJ Catwell had travelled in the ambulance alongside Precious. Little did she know that she was with the very man who had inflicted the fatal injuries.

Experts said Lylah suffered a brain injury consistent with being hit by a hard object. The post-mortem examination revealed her injuries were caused by ``repeated impacts to her face and skull''.
In court, Catwell described Lylah as demanding and clingy to her mother, taking time away from his relationship with Precious.
He will be sentenced tomorrow afternoon.
Detective Superintendent Dave Barraclough said:
"This has been a particularly harrowing case for all concerned.
"Lylah was a happy, innocent girl, who was much loved by her family. Only a day before she was seen running and skipping around, like any other child of her age.

"It's horrific that she was viciously murdered by Catwell, a man who should have been caring for her."