Winchester: Woman Conned Out Of Thousands
16 April 2015, 08:09 | Updated: 30 March 2016, 13:50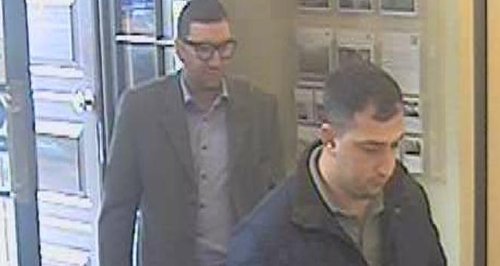 A woman's had nearly £3,000 stolen from her bank account after being conned by two men in Winchester.
At around 11am on Friday 10 April the victim went to Barclays on Jewry Street to withdraw cash. She used the cash machine outside and reported that her cash card was swapped by somebody while she was distracted.

The card was then used to withdraw £2,200 from two cash machines at the bank. A transaction of £634 was then made at the nearby Jack Wills store. A further transaction at Moss Bros was declined.

Police have released an image of two men they would like to speak to, who were seen in the bank at the time,

The first man is described as:
- Aged in his late 30's or early 40's.
- He was tall and slim and was wearing thick framed glasses.
- He was wearing a grey suit with a light blue shirt with no tie.
- He was carrying a tan leather briefcase.

The second man is described as
- Aged in his late 30's or early 40's.
- He was tall and slim.
- He was wearing a navy jacket, dark trousers, and white trainers.

The two men were seen in the area around the bank with another man of a similar age who was carrying a black rucksack, and a woman who had dark hair pulled into a ponytail.

Investigating officer PC Dom Doyle said:
"Distraction thefts are thankfully rare and I believe whoever is responsible will have attempted a similar scam elsewhere.

"This is a crime that has targetted an elderly vulnerable victim with no regard to the implication of these actions..

"I would take this opportunity to remind anyone using an ATM to shield their PIN as they enter it. Use an ATM inside a bank if possible. Be aware of whether people are trying to look over your shoulder, and always be vigilant when handling cash in public".

Anyone with information should contact PC Dominic Doyle on 101 by quoting 44150119985 or via the website http://www.hampshire.police.uk/internet/do-it-online/online-forms/message-for-officer.html

You can also call the charity Crimestoppers line on 0800 555 111 where information can be left anonymously. Minicom users should call 01962 875000.