£70m Watermark WestQuay Development Approved In Southampton
25 June 2014, 12:43 | Updated: 30 March 2016, 13:50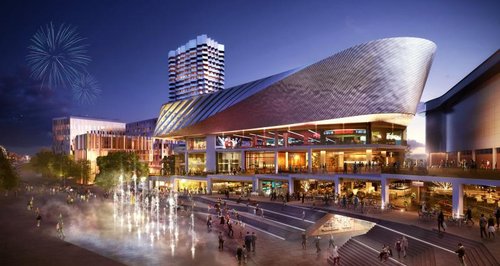 The £70million Watermark WestQuay development has been approved by Southampton City Council.
The leisure-led scheme was unanimously supported by councillors and will deliver a landmark 10 screen cinema, up to 20 restaurants and a major public piazza for the city.

The design of Watermark WestQuay includes upper and lower promenades which will be lined with restaurants and cafes, with the leisure and cinema building set above.

The new public square located in front of the city's historic wall has been inspired by water pools created by mudflats on the Southampton coastline and includes a unique water feature that ebbs and flows like the tide. The piazza will also be used during the year for events such as open air cinemas and concerts.

Following approval of the application, work is expected to start on site later this autumn with Watermark WestQuay set to open in autumn 2016.

Guy Wells, Hammerson Development Manager said:

"This site offers a unique opportunity to deliver an exceptional leisure and dining destination for Southampton.

"We have been encouraged with the level of support we have received on the scheme from stakeholders and we have worked hard with the council to create a scheme which is already generating strong interest from potential occupiers."

Councillor Simon Letts, Leader of Southampton City Council, said:

"I am pleased that my fellow councillors have approved the application for this flagship City Centre Master Plan VIP project. The plans for the site are expansive, imaginative and inspiring.

"Watermark WestQuay will add a fantastic dynamic to Southampton both visually and as a leisure hub within our city centre, providing a vast array of new dining and leisure experiences, as well as up to 500 jobs; not including the construction jobs that will come during the build phase.

"I look forward to seeing work start on site later this year and frequenting the facilities in 2016!"

The development is immediately adjacent to Hammerson's jointly owned WestQuay Shopping Centre, which is anchored by John Lewis and Marks & Spencer.

The master plan for Watermark WestQuay will be delivered in two phases. The second phase has the potential to include a hotel, residential tower with flexibility for retail and office space.