South Coast Recovers From Huge Storm
29 October 2013, 06:10 | Updated: 30 March 2016, 13:50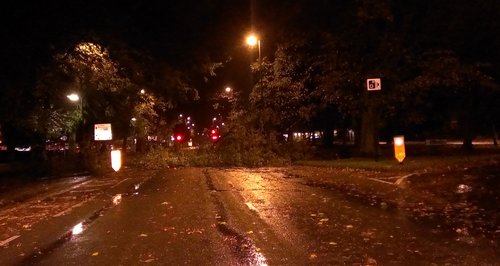 Four people have died, hundreds of thousands of homes have been left without power and travellers suffered transport chaos after hurricane-force conditions battered Britain.
The storm's third and fourth victims - a man and woman - were found at an address in Hounslow, west London, which was devastated after a falling tree led to a suspected gas explosion this morning.

Authorities confirmed earlier that a man in his 50s from Harrow in north west London died as he drove through Watford in Hertfordshire and a 17-year-old girl was killed as she slept in a static caravan in Hever, Kent.

The Met Office lifted its amber warning as the heart of the storm blew away from Norfolk and over the North Sea to continental Europe, leaving a trail of destruction and disruption behind it.

Meanwhile Hampshire County Council had extra teams working through the night to keep the county moving - clearing roads of fallen trees and tackling flooding.
Across the county, highways teams have been dealing with trees which have been uprooted, or branches that have fallen onto the road network as a result of high winds and heavy rain over night.

Around the County over 100 roads were partially or fully closed during the bad weather.

Arboriculture teams have been dealing with fallen trees on a priority basis and staff have also been dealing with local flooding issues and emptying gullies across the county.

Gusts widely between 60-70mph, locally exceeding 70mph at times and even in excess of 80mph near and just off the Hampshire coastline, were recorded first thing this morning.

The worst is now past with blustery showers expected to affect the county before they largely die out later, to leave a mainly dry night with clear spells.

The focus is now on a clear up operation with priority to clear the blocked main road network.

The main A roads are for the most part clear and the crews are now being deployed to deal with the many reports of trees that have fallen on other parts of the network, with priority being given to the busier routes and where the road is the only access route. The debris will be collected later.

Councillor Seán Woodward, Executive Member for Economy, Transport and Environment at Hampshire County Council, said:

"I have only the highest praise for all County Council staff and staff from Amey our contractors who have been out in terrible conditions to keep Hampshire moving during, and after, one of the worst storms we have seen in a decade. It is a timely reminder to the public how crucial local government services are.

"Our highways teams, with additional support from extra tree crews, gully tankers and emergency response teams, have been working hard to help keep our highways clear for the morning rush hour, by dealing with fallen branches or trees and flooded roads. It could take up to three working days to completely clear all the debris and we are asking people to be patient.

"I would ask anyone who has to make a journey to take particular care in these conditions, driving with caution and at an appropriate speed and be patient and considerate to other road users. Sudden, very heavy downpours can lead to roads flooding quickly. Do not attempt to use fords and be extra careful driving through any road surface water as it may be difficult to judge its depth.

"Please be patient and considerate to other road users. Spare a thought too for cyclists and any pedestrians walking along the road side, so that they are not showered by puddle water thrown up from the road by moving vehicles. Be aware too, for the additional hazard of fallen leaves making roads and pavements extra slippery, and also causing drains to become blocked. It is also advisable for people to check over their property today to assess any damage, and to check on any vulnerable neighbours and their property, to ensure that everything is in good order."
Public transport is back to normal today (Tuesday 29 October). South West Trains - who said around 50 fallen trees blocked the network on Monday - are running service again apart from Eastleigh to Fareham, where a signal light was hit by a tree. Find out more at http://www.southwesttrains.co.uk/alerts.aspx.