Tributes To Biker Killed In Isle Of Wight Crash
2 June 2015, 12:37 | Updated: 30 March 2016, 13:50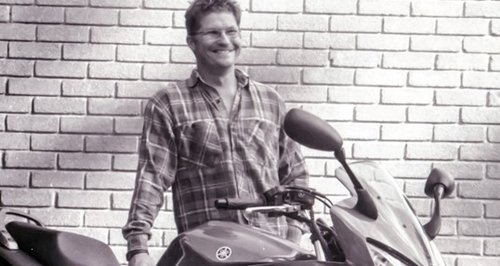 The family of a biker killed in a crash on the Isle of Wight have paid tribute - saying he loved motorbikes, cars and all things mechanical.
48-year-old Jonathan Hawes from Newport died after a collision with a car on the A3055 Cowleaze Hill, Shanklin on Sunday 24 May.
Shortly before 5pm a black Suzuki motorcycle was involved in a collision with a white Renault Megane. Jonathan was pronounced dead at the scene.

Jonathan's family have now released the following tribute:

"All Jonathan's education was centred upon Carisbrooke, at C. of E. Primary, C.of E. Middle and High School levels.

"Upon leaving school he worked for farmer, Kay Reid, on a Y.T.S. scheme. He was student of the year at the I.W. Agricultural College. However, his interest in things mechanical took him into precision work with Temperature, Micronaire and Island Sheet Metal.

"From a very young age Jonathan loved vehicles, and one of his very first words was "Car!" As a teenager he loved repairing vehicles with the late Joe Dawson. Though he loved cars, motorbikes became, and remained, his first love. Visiting the Isle of Man to watch the TT races became a priority. Large dogs were a 'must have' for years, until the agony of having to say goodbye, on their demise, became too much. He was for years a member of the Isle of Wight Gospel Choir, and also loved singing karaoke.

"No words can aptly describe the jolly, gentle, smiling, humorous, kindly person which was Jonathan. His lovely sense of humour could turn round ugly situations and the belligerent; he was peace loving and protective. Perhaps, though, the words of family friends go some way towards epitomising something of the kind of person he was. They wrote, "We watched Jonathan grow from the endearing six year old with the cheeky grin, which would have got him out of any trouble, to [become] the caring, there-for-anyone-who-needed-help man he became ... popular with anyone he knew, and so well liked."

"In many respects, he had a hard life, but rather than allowing things to sully his character, he became enriched by it. Like the rest of us he had his faults, but his underlying Christian faith transcended all, and, in a large part, made him the man he was".