Theatre Wants More Teenagers In The Audience
30 August 2013, 08:22 | Updated: 30 March 2016, 13:50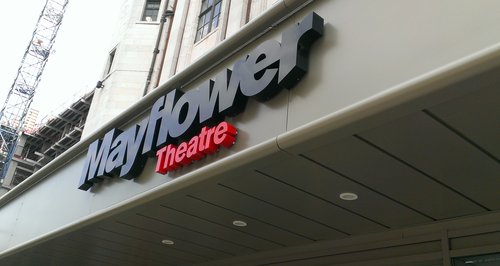 Southampton's Mayflower Theatre has revealed a refurbished foyer and a new logo in an attempt to get more young people through the doors.
The venue's foyer's been extended outwards and redecorated inside at a cost of £750,000. Bosses say it's because it was too cramped for people going along to shows, and too old-fashioned.
The refurbished foyer opens on Friday 30 August with a 'Gala Night' of Bugsy Malone, a Mayflower production featuring over 220 local young people.
There's also now a new logo above it and the Mayflower Southampton will now be officially known as the Mayflower Theatre. Capital's been told they also want to expand their range of shows, to provide more aimed at teenagers and people in their twenties, as well as making sure it's affordable for people.
Along with the new brand roll out, a new website has also been launched.
Michael Ockwell, Mayflower Theatre Chief Executive said:
"Our building is essentially a frame for the shows to be performed in, and this is how it will be represented in logo form, with one 'hero' logo and several variations each associated with the many different types of shows presented by our theatre.
"There are many Hippodromes, Empires and Theatre Royals in the country but only one Mayflower and I am sure we are all proud to have such a nationally recognised identity here in Southampton.
"Our new brand reflects our focus on ensuring that the very best productions continue to come to the Mayflower, and it underlines our commitment to our community."

Isobel Gatward, Chairman of The Mayflower Theatre Trust said:
"We hope that our regular patrons will be joined by new audiences discovering the pleasure of live performance. Whilst we embrace the Mayflower Theatre's great history, we want to embrace our heritage and look to the future.
"We are committed to making our theatre accessible to all and have invested in a larger foyer to provide greater comfort for our audiences. We will continue to offer a wide and varied programme which will now include a particular focus on young people."

The new brand will incorporate the Mayflower's restaurant, Ovation and the theatre's ticketing agency Ticket South which has been re-named Out & About.