Southampton's Central Bridge Closed For Five Months
31 March 2014, 05:00 | Updated: 30 March 2016, 13:50
One of Southampton's busiest routes, Central Bridge, is being closed this morning for more than five months.
The City Council says 'a significant part of Central Bridge requires major reconstruction to replace a failing waterproof layer that protects the 130 year old brick structure. Due to the complexity of the project, the works will require the complete closure of the bridge, from 31 March until the beginning of September 2014. Local diversions will be in place for motorists and pedestrians for the duration of the work.'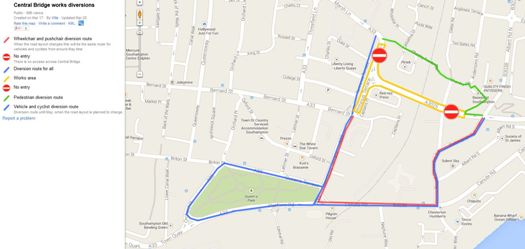 Southampton City Council has successfully secured government 'Pinch Point' funding to carry out this and a wider programme of work, over the next year. Part of this funding will see the preservation and maintenance of several vital bridges and structures in the city. Balfour Beatty Living Places is undertaking the Central Bridge works, in partnership with Southampton City Council.

Cllr Jacqui Rayment, Cabinet Member for Environment and Transport said:
"This is essential work to preserve this historic bridge, which is a vital link into Southampton city centre. Key to all the current major highway work is the need to improve and enhance transport links into and around Southampton, which will support the future economic growth of our city."
A City Council statement said:

"The work, which requires the removal of the road and pavement foundations right down to the bridge's brick arch structure, will need to be carried out sensitively due to the bridge's grade II English Heritage listed status.
"Without these essential repairs the bridge is likely to deteriorate quickly and need much more significant renovation and reconstruction in the future.

"To save time and money, we will take the opportunity to create the next interlinking section of the Eastern Cycle Route while the bridge is closed. This will join the newly completed section on the Itchen Bridge and will continue further into the city. We will also be making alterations to the Terminus Terrace junction at Captains Place to allow traffic to go straight on and over Central Bridge once the works are completed."

For more information, visit the Southampton City Council website.