Southampton Lapdancers Cleared Of Kidnapping Club Boss
31 January 2014, 12:59 | Updated: 30 March 2016, 13:50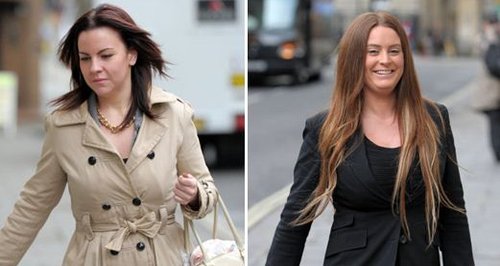 An actress and three lapdancers - two from Southampton - have been cleared of kidnapping the boss of a Cheltenham nightclub who failed to pay them £42,000 in wages.
DJ and producer Charlotte Devaney, 34, starred alongside comedian and actor Simon Pegg in hit Hollywood comedy How To Lose Friends and Alienate People and collaborated with US rapper Snoop Dogg on her latest single, Flip It.

In March 2012, she recruited 60 lapdancers to work for Curtis Woodman, 34, at his pop-up nightclub during the famous Cheltenham Festival.

Authorities closed the Embassy Club in Cheltenham, Gloucestershire, on its third night because the dancers stripped off - despite rules ordering them to wear nipple tassels and bikinis.

Mr Woodman refused to pay Devaney and the lapdancers more than £42,000 they had earned during the club's first two nights.

He told Bristol Crown Court that six months later, on September 3 2012, Devaney, three dancers and two brothers, who had been hired as "heavies'', arrived at his work premises in Tewkesbury.

The local businessman claimed he was bundled into a BMW, beaten up and forced to transfer £4,800 into Devaney's bank account during a "terrifying'' two-hour ordeal.

Devaney and lapdancers Mandy Cool, 29, Stephanie Pye, 31 and Rachel Goodchild, 24, denied a charge of kidnapping Mr Woodman.

Brothers Alex Morris, 23, and Robert, 27, denied the same charge, along with two counts of robbery - relating to £60 cash and Mr Woodman's £4,650 Breitling Skyland Avenger watch.

A jury of seven men and five women cleared the women following a three-and-a-half-week trial. Alex Morris was convicted of the two robbery charges, while Robert Morris was cleared of both.

Judge Geoffrey Mercer QC thanked the jurors, who reached unanimous verdicts, for their service in the case.

Mr Woodman told the jury that he was "surrounded'' by the women - dressed in miniskirts, Daisy Duke shorts and stilettos - and feared for his life during the "terrifying'' incident.

He said £42,000 of the disputed money related to one customer, named only as "Steve'' in court, who spent six hours with lapdancers at the club.

Steve, who had won £50,000 at the races that day, spent #700 on drinks and racked up the bill drinking and singing Rod Stewart songs with the lapdancers.

But the following morning, he contacted his credit card company to say the bill was fraudulent and an investigation was launched - freezing the money for 120 days.

Police later decided the money had been legitimately spent and it was transferred to Mr Woodman, who failed to pass it on to the women who had earned it.

He told the court this was because they had breached contracts agreeing to wear nipple tassels and bikinis, leading to the club being closed on its third night.

Devaney said 19 girls were left unpaid after the closure and constantly phoned her to find out where their earnings were.

She spent months chasing Mr Woodman for payment before driving to confront him with the three dancers and the Morris brothers.

"I was in fear of my life. I didn't have a clue what was going on,'' Mr Woodman claimed, insisting that the group drove him around Cheltenham for two hours in Devaney's BMW 1 Series before dumping him on a residential street.

The jury heard that professional martial arts fighter Robert Morris kicked and punched Mr Woodman up to 12 times in the face, while his brother Alex threatened him with a knife.

Mr Woodman said Alex Morris robbed him of £60, his £4,650 "pride and joy'' Breitling watch and he was forced to phone his bank to transfer #4,800 to Devaney.

A custody officer discovered the watch, which has a 1.7in (44mm) face, in the anus of Alex Morris two days after his arrest.

Devaney told the jury that Mr Woodman had concocted the kidnap story to avoid paying his debts, saying: "He invented all of this so he didn't have to pay us the money back''.

"You don't make girls take their clothes off and then not pay them to work. It is not a moral thing to do.''

Alex Morris, from Southampton, admitted carrying a bladed article, namely a Stanley knife, on the day of the incident.

He, along with his brother Robert, also from Southampton, had denied charges of robbery relating to £60 and the Breitling watch.

Devaney, from London, Pye, from Sutton Coldfield, Cool, of Southampton (on right in photo), and Goodchild, also of Southampton (on left in photo), had each denied a charge of kidnap on September 3 2012.

Alex Morris will be sentenced at Bristol Crown Court on February 10.