South Coast Welcomes The Royal Baby
23 July 2013, 11:38 | Updated: 30 March 2016, 13:50
The South Coast's been welcoming the arrival of the Royal baby.
The celebrations include several other ladies who went into labour on the same day. Fellow new mum Shauni Hopkins (below) from Leigh Park had her baby at the Queen Alexandra Hospital in Portsmouth just hours before the Duchess of Cambridge. It means son Frazor shares a birthday with the Prince of Cambridge.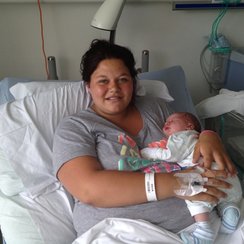 Shauni said:
"I was saying 'I bet he's waiting for the Royal baby' and then when I heard on the radio that she went in I said 'I knew he was waiting for her'.
"It's emotional. Although she's royalty she's still only a woman so she'll feel the same. I imagine there'll be a few tears."
Frazor will be one of more than 50 babies across the south coast who will share their birthday with the Prince of Cambridge, after being born yesterday.

They've all been given a limited edition, commemorative silver penny. The 1p coin has been stamped with the year 2013 and is worth £28.
QA midwife Amanda Davy told Heart there has been an added buzz around the maternity ward:
"It's midwives mainly who've been talking about Kate. The ladies on the ward who have now delivered were a little bit busier, so I'm sure they'll enjoy the celebrations afterwards.
"They're a general topic of conversation with all of us. But I think, for pregnant ladies, they seem to be so focused on their own babies and if they have a baby at the same time as Kate, that's just a bonus really."
Meanwhile, all of Her Majesty's ships - in home or international waters - are flying the Royal Navy Ensign flag from their mast to mark the birth of the prince.

Portsmouth-based HMS Lancaster, deployed on a patrol task in the Caribbean, added its own congratulatory message to the Duke and Duchess, with crew members lining up and spelling out "It's A Boy!" on the deck of the ship.



Commanding officer Commander Steve Moorhouse said:
"As 'the Queen's Frigate' we were particularly delighted to hear the fantastic news of the royal birth and everybody on board HMS Lancaster sends their warmest congratulations and best wishes to the Duke and Duchess of Cambridge.''
The Duchess of Cambridge was hoping for a son and her wish has come true.

When she was mid way through her pregnancy, Kate told a soldier at a St Patrick's Day parade in Aldershot, Hampshire, that she did not know the sex of her baby, but that she would like a boy and the Duke of Cambridge a girl.

Guardsman Lee Wheeler, 29, said:
"I was talking to her about the baby, of course. I asked her 'Do you know if it's a girl or boy?', and she said 'Not yet'.

"She said 'I'd like to have a boy and William would like a girl'. That's always the way.''

Rumours that Kate actually knew she was having a boy went into overdrive when she divulged to a group of Army wives she had bought a trendy Bugaboo pram in light blue.

It was also claimed Prince Harry told close friends the royal couple were expecting a boy.
People on the South Coast have also been guessing what the new arrival's name might be. Traditional names including Henry, George and the favourite James have all been mentioned.