Southampton: Cargo Unloaded From Hoegh Osaka
27 January 2015, 18:18 | Updated: 30 March 2016, 13:50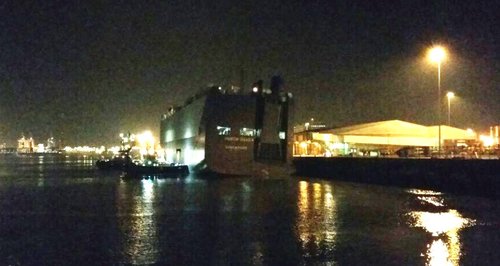 The first of the hundreds of cars which made up the cargo of the rescued car carrier Hoegh Osaka have started to be off-loaded.
Four tugs towed the 51,000-tonne ship back into Southampton Port last Thursday after it had become stranded for a total of 19 days off the Hampshire coast.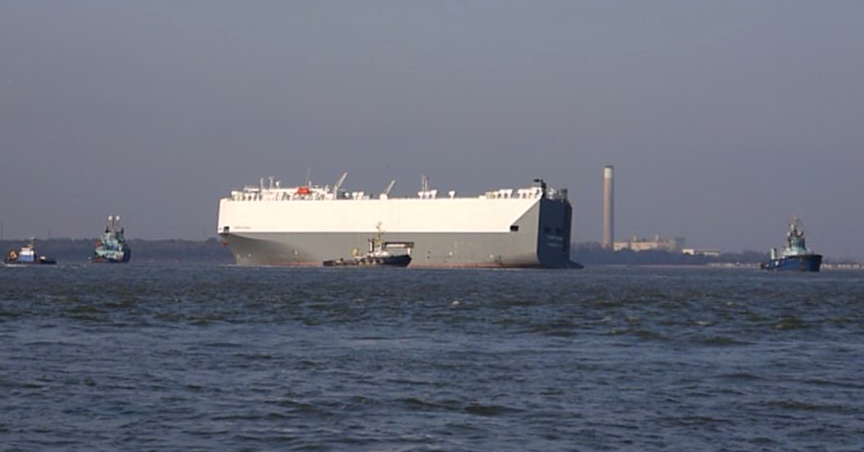 The Singapore-registered ship, which has a cargo of 1,400 cars and 105 pieces of construction equipment, was beached deliberately on Bramble Bank sandbank, near Southampton, on January 3 after it began listing as it left the port before it was moved to a nearby spot on January 7.

The cargo of the ship includes 1,200 Jaguar and Land Rover vehicles, 65 Mini cars and 105 pieces of JCB construction equipment.

A spokesman for ship owners Hoegh Autoliners said that most of the cars had survived unscathed, while some had suffered dents and scratches.

An excavator had shifted punching a hole in the hull causing 3,000 tonnes of water to flood some of the car decks. The spokesman said that the condition of cars in this area was not yet known although "a small number" were under water.

He added that the discharge of the cargo had been delayed as a piece of heavy equipment, a track compacter used to crush gravel, had shifted and was blocking the exit ramps.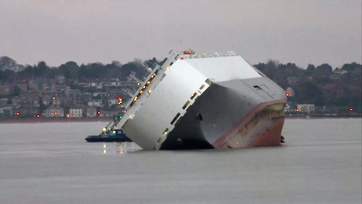 The spokesman said: "They were unloading the cargo for most of today, that involved driving the vehicles off, primarily the cars, some Minis and Land Rovers, but not much of the heavy equipment has moved off yet.
"They are expecting the full discharge process to be finished by the end of this week or by early next week depending on how quickly they can get them off.

"There has been some damage but most of the lashings held so most of the cargo didn't shift meaning that is relatively unscathed with minor damage such as dents and scrapes, most of it is in good condition.
"A small number of vehicles did get wet and suffered damage from that but they haven't been taken off yet."