Shark Invasion On West Sussex Coast!
17 July 2015, 15:18 | Updated: 30 March 2016, 13:50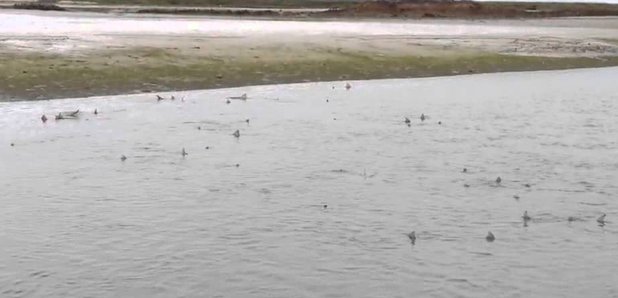 Nature wardens say they were "astonished" to come across a group of up to 50 sharks swimming in rising tidal waters in West Sussex.
Video footage shows dozens of fins circling in the knee-deep water at RSPB's Medmerry wildlife site near Selsey.

The society says it was an "unprecedented" group and identified them as smooth-hounds, a type of shark usually found offshore in coastal waters.

RSPB warden Peter Hughes captured the footage.

He said: "It was astonishing. There were just these huge fish everywhere in knee-deep water.

"We assume they were coming in to feed on the crabs and other marine life that have made their home at Medmerry.

"We knew in time that (this) was going to be a great place for wildlife, but I don't think anyone expected this!"

A smooth-hound can grow up to 159 cm (5 ft 3 ins) long and weigh more than 13 kg (29 lb).

They are a shallow water shark species and regularly come close enough to land to be targeted by the shore angler.