Schools To Be Shown Tombstoning DVD
A paralysed young man stars in a DVD launched today, aimed at deterring youngsters from the potentially deadly craze of tomb-stoning.
Former soldier Sonny Wells, from Waterlooville, Hampshire, broke his neck in three places when he leapt from a pier in Southsea on a hot day in 2008.
The 23-year-old's life changed forever when he jumped from a height of 30ft into just 3ft of water, forcing him to abandon his sports-loving life to adapt to one spent permanently in a wheelchair.
Mr Wells, who served for two years in the King's Royal Hussars, hopes the lesson he learned will deter others from risking their lives by tomb-stoning.
His mother Jacqui Unal, 46, said:
"It has changed everybody's lives forever, not only his but those around him too. It has had a massive impact on all of us.
"We know that we can't stop all youngsters and adults from tomb-stoning but if we can stop just a few of them from doing it then it would've been worthwhile.
"If they could see Sonny they wouldn't do it. It takes him half an hour to get dressed now instead of five minutes because he has to use his teeth.
"He doesn't go out much now and doesn't want people to see him. His whole life has changed. Only last week he posted a message on Facebook, saying 'Do you ever wish you could turn back time?'"
In the first scheme of its kind, the Port of Dover Police in Kent will use a DVD to highlight the dangers of the craze at schools and local community groups.
Schoolchildren feature on the DVD, which follows a tomb-stoning accident and subsequent rescue involving Dover Coastguard and the South East Coast Ambulance Service.
In the footage, Mr Wells also speaks movingly about his battle to overcome his injuries. In the past two years, six people have died as a result of tomb-stoning and 22 serious injuries.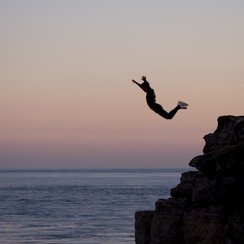 Temporary Chief Inspector Neil Care, of Port of Dover Police, said:
"Tomb-stoning is a phenomenon that takes place the length and breadth of the country every year and sadly often ends in tragedy.
"This powerful DVD is aimed at educating those that may be tempted to participate in tomb-stoning and highlights the dangers and potential implications surrounding the activity. If it saves just one life it will be worth it."
Nadeem Aziz, chairman of the Dover District community safety partnership, said: "This is a very important issue in coastal towns and is something that can have devastating effects on individuals and their friends and family.
"We all must play our part in discouraging this dangerous and potentially fatal activity, and we are very pleased to be able to fund this project."