Repair Work Underway After Botley Landslip
19 February 2014, 06:25 | Updated: 30 March 2016, 13:50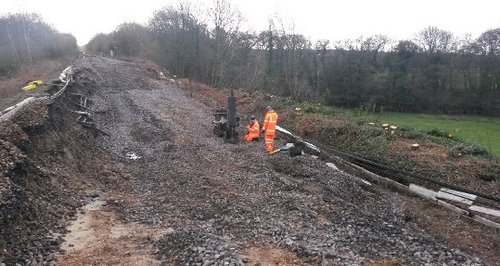 South West Trains says it's had to build a temporary road to get machinery to the site of a major landslip at Botley.
The firm has started work on repairing the line there, which has been closed between Eastleigh and Fareham for more than a fortnight.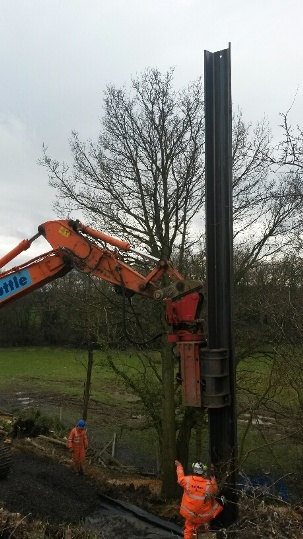 It hopes to re-open it in mid-March.
In a new statement, South West Trains said:
"Flooding in the Botley area has caused a number of landslip sites along the railway embankment. As a result, the track is currently unsupported and we are unable to run trains between Eastleigh and Fareham on the route via Botley and Hedge End.

"The main landslip site is an 80 metre section of embankment where the railway is built up above the level of the land which has collapsed following torrential rain.

"The embankment is predominantly composed of clay. Both sides of the railway turned into a claggy mixture under the weight of water and slid outwards. It s what engineers call a double-rotational failure and looks much like a sandcastle that has been overloaded with water.

"The ground around the railway is also very boggy and our engineers will have to build a temporary road to bring machinery to the site, and build temporary bridges across swollen streams.

"The required machinery is now on site and sheet steel plates are being driven into the ground - we call them piles - to form semi-buried walls on both sides. Then the embankment can be built back up using much more suitable free-draining materials.

"There are several other landslip sites on the line, however they are smaller in scale and will require sheet piling on one side only.

"The current estimate for re-opening this line is mid-March and we will continue to update you as work progresses."