Red Funnel Plans Scaled-Down East Cowes Redevelopment
29 July 2016, 08:07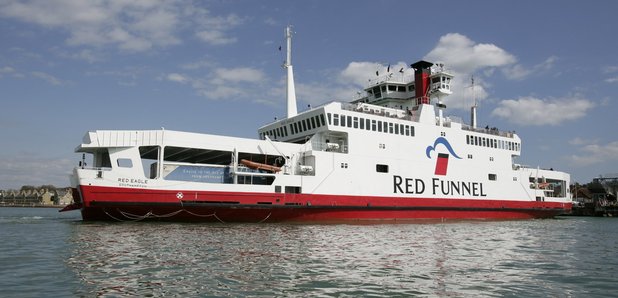 Solent ferry company Red Funnel says it's submitting a revised version of its rejected East Cowes redevelopment.
In April, Isle of Wight Councillors turned down plans to demolish homes and businesses, and build a new terminal and bigger car waiting area, over concerns about a loss of jobs.
Red Funnel says it'll appeal that decision - but for now, is putting forward a scaled down proposal.
A Red Funnel statement said:
'In phase one of the revised plan, an application will be submitted in August which will expand the existing marshalling yards (Trinity and Phoenix), to include Trinity Wharf and the Redux Industrial Unit, located behind Dover Road. This will result in an increase of the Car Equivalent Unit (CEU) capacity of the marshalling yard by about 100 and in greater operating efficiency. Traffic flow will be improved within East Cowes, however the main flow of ferry traffic will still be directed via Upper York Avenue. This option retains the two largest industrial units on Seaholme Yard, thus protecting marine employment, until Kingston Marine Park (KMP) is operational and a seamless move of the businesses to KMP is possible.
'In phase two, an appeal will be made against the Planning Committee's original application refusal. Red Funnel remains committed to improving the gateway to the Island and truly believes it to be the best long-term option for the future prosperity of East Cowes, the whole Island and Red Funnel.
'This revised planning application retains all the Dover Road properties, although the original plan did not. Red Funnel believes there is a solution whereby some of the Dover Road properties could be retained with the majority of the original scheme still being delivered. Red Funnel would like to liaise with the Dover Road residents to discuss this in more detail.
'If this approach is successful, the actual timing and phasing of delivery will be dependent on progress with Kingston Marine Park, which Red Funnel understands could be operational towards the end of 2017.'
Kevin George, Red Funnel's CEO, said:
"Since April we have engaged in further consultation with stakeholders who were previously both in support and against the original scheme. We have learnt from building Red Jet 6 in East Cowes that not only is marine manufacturing important to the Island's economy, but to be competitive there is also a need for modern, purpose-built facilities. We want to see the marine businesses currently in Venture Quays grow and they can only do that if they have the right space to build vessels, with adequate water access. We have always considered that KMP, which will provide up to 160,000 sq. ft. of purpose built facilities with a 200 tonne hoist, is the right answer. Seaholme Yard only provides 20,000 sq. ft. and a 70 tonne hoist.
"We have been working with the HCA, IOW Council, Solent LEP and the marine businesses to help make KMP a reality, rather than just an idea on paper. Good progress has been made and an application for variation to the existing planning consent has recently been submitted, such that the initial facilities could be available before the end of 2017. Under this new two-phase approach for our terminal development, we will not progress to the full scheme until there are suitable facilities to allow the marine industry in Seaholme Yard to move to seamlessly, thereby ensuring the continuity of their businesses and of local employment.
"From the most recent consultation, the issues and challenges facing the residents of East Cowes became even more apparent: in particular, the properties in Dover Road, concerns about the indicative development of the current ferry terminal site in the future and the lack of parking in the town. I can confirm that, at this point in time, Red Funnel has no intention of progressing with a compulsory purchase order, although we would like to discuss various options directly with the residents of Dover Road.
"Secondly, in terms of the redevelopment of the Trinity and Phoenix Yard sites, I would like to stress these are only indicative. The outline planning application provides a wide range of possible uses for the land, ranging from residential and retail through to light industrial.
"Lastly, although it is not our role to solve the parking issues of the town, we know we have a part to play and need a location where our customers can park. As a consequence, we are exploring possible commercial parking opportunities in and around East Cowes.
"Many people on both sides of the Solent were dismayed at the refusal of the original scheme. We believe this new two phase approach will give the Island a world class marine manufacturing hub, provide Red Funnel with a ferry terminal that can meet the current and future needs of the Island and help pave the way for the regeneration of East Cowes."