Queen's Baton Relay Reaches Southampton
4 June 2014, 13:22 | Updated: 30 March 2016, 13:50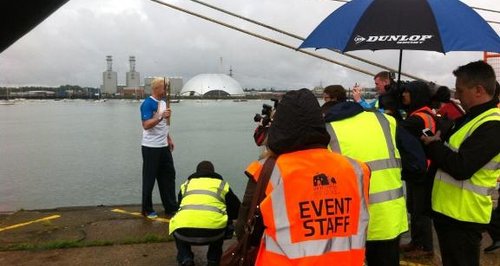 The Queen's Baton Relay reaches Southampton today, for a day sporting celebrations ahead of the Commonwealth Games in Glasgow.
Current 400m Commonwealth Games record holder Iwan Thomas and James Saunders, who was instrumental in setting up parkruns in the region, welcomed the Queen's Baton Relay to Southampton on board Cunard's Queen Elizabeth in the morning.

Throughout the day the baton will visit a number of exciting events, organised by Southampton City Council. The Queen's Baton will be carried by local community heroes who have been nominated for their contributions to sports, coaching, education and the community in Southampton.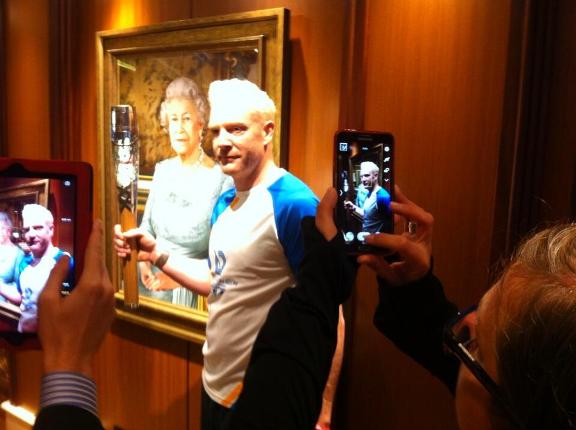 After being carried aboard Queen Elizabeth, the Queen's Baton continued its activity-packed day, arriving in Southampton Guildhall at 11am, where it was welcomed by civic guests and members of the public at the annual Mayor Making Ceremony and Nick Chmarny who has worked tirelessly over the last 30 years to develop rowing in Southampton.

From there it was on to the TRYathlon event at the Southampton Outdoor Sports Centre, arriving at 1.50pm and staying for approximately 40 minutes. This event provides up to 600 local schoolchildren with an opportunity to try a variety of sports. The Queens Baton will be carried by Richard Cartwright, who was selected as a Batonbearer because of his commitment and drive in developing wheelchair rugby in the city and fellow Batonbearer Chris Grainger, nominated due to her long service to volunteering and netball.

The Queen's Baton Relay will then join the free evening celebration in Guildhall Square from 5-7pm where the highlight of the public show will be a spectacular high diving display by La Quebrada featuring Olympic and Commonwealth Games medallist Peter Waterfield. The event will also offer people a chance to try various sport including tennis, boxing, gymnastics, hockey, rowing ergos, handball shot challenge, hula hoops, instant ping table tennis, crazy catch. South Coast Sprints will also be on hand for competitive bike racers.

All six Queen's Baton bearers will be on hand in Guildhall Square to show off the baton which will be carried onto the stage by Annie Clewlow who has co-ordinated the world class diving programme for the last 14 years.

Dame Kelly Holmes, President of Commonwealth Games England, said:
"I'm encouraging everyone in Southampton to get involved when the Queen's Baton Relay comes to the city. Southampton will be hosting an incredible celebration of sport on Wednesday 4 June and everyone can join in. If you can be there then please go and give sport a go, cheer your inspirational Batonbearers and be part of the Team England send-off to Glasgow."
Mike Harris, Head of Leisure and Culture at Southampton City Council said:
"Southampton gets its chance to be a part of the exciting build up to the Commonwealth Games with this prestigious special event. We want to see as many people as possible dressing up in red and white in support of Team England and to welcome the Queen's Baton to the city."
Cllr Simon Letts, Leader of Southampton City Council, said:
"We're thrilled that our bid was successful and we?ll be welcoming the Queen's Baton in this, our 50th year of city status.
"Southampton has some excellent sporting facilities and world class sporting heritage and I know that the city is going to really get behind Team England during the Commonwealth Games.
The Commonwealth Games takes place in Glasgow from 23 July to 3 August. Commonwealth Games England is sending a 400-strong team to compete across the 17 sports.
(Photos: Southampton City Council)