Pumpkin Boat Ready To Cross The Solent
24 October 2013, 07:05 | Updated: 30 March 2016, 13:50
An artist from Portsmouth is hoping to set a new world record by sailing a giant pumpkin from Gosport to The Isle of Wight.
Dmitri Galitzine is making the crossing as part of his latest art project and says he got the idea from Nova Scotia in Canada, where an annual pumpkin boat race takes place on a lake.
He's enlisted the help of marine entrepreneur Jonny Boys and his Trafalgar Wharf team, who will provide him with support during the voyage across The Solent on Thursday 24th October.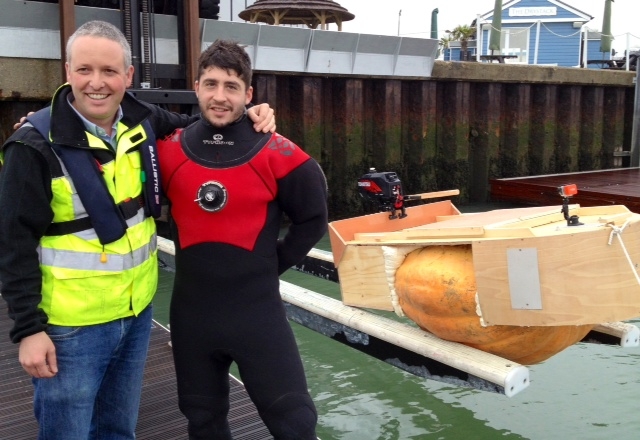 Galitzine will sit inside the 800lb vegetable and travel several miles across one of the busiest shipping channels in the world. The pumpkin is fitted with a small outboard motor and will travel at a speed of about 1 or 2 knots.
He says: "Giant pumpkins are naturally buoyant and have a thick waterproof exterior. They are round in shape like Welsh coracles, which were an effective vessel in fast flowing rivers. My biggest challenge are the strong tides across the Solent."
The prize winning pumpkin, weighing almost half a ton, has been grown by Mark O'Hanlon, winner of the UK's Heaviest Pumpkin, 2004. That title has now been overtaken by a Dorset farmer.