Portsmouth Warship Home For Christmas
18 December 2013, 18:09 | Updated: 30 March 2016, 13:50
Sailors from Portsmouth-based warship HMS Lancaster have been greeted by hugs and kisses from family and friends, as they returned a week before Christmas.
HMS Lancaster sailed into Portsmouth Naval Base following its deployment during which the Type 23 frigate seized drugs with a street value of £160 million.

The ship's company of 185 cheered as they filed down the gangplank as the ship came alongside at the Hampshire port.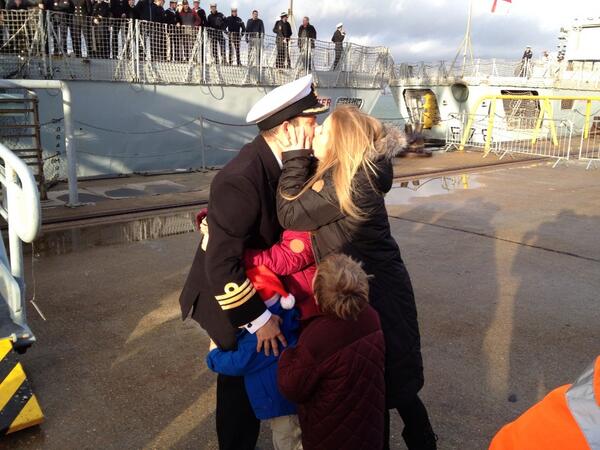 Able Seaman Sam Channon, 21, from Southampton, Hampshire, lifted his girlfriend Amber Challis, 19, off the ground and gave her a kiss when he left the ship. He said:
"It's brilliant, the best feeling in the world.''

On deployment, HMS Lancaster carried out six raids during which it intercepted 1.2 tonnes of cocaine and almost 1.5 tonnes of cannabis. Lancaster also detained 23 drug-runners and disrupted a sizeable amount of drugs which were ditched in the sea.

Since leaving the UK in May, Lancaster clocked up more than 30,000 miles and made 20 port visits to 18 countries during which the crew helped with building projects to help the local communities.

In September, the warship took part in Exercise Unitas - a week-long multinational exercise involving 16 warships and submarines from nine nations ranging from Canada to Chile.

The ship's commanding officer, Commander Peter Laughton, said:
"What Lancaster has achieved over the last seven months is nothing short of remarkable. The variety of roles that the ship has undertaken and the range of successes that have been achieved demonstrate the versatility of a frigate in this region. We have trained on a small scale with many islands' coast guards as well as operated as part of a task group alongside other navies in Exercise Unitas, and our counter-narcotic operations speak for themselves.

"Throughout all of this Lancaster has remained poised to respond to any natural disaster and provide life saving support. I am extremely proud of my ship's company who have worked tirelessly over the last seven months on the front line of naval operations and ultimately protecting our nation's interests.''

Lancaster's weapon engineer officer Lieutenant Commander Adrian Gubby added:
"Seven months is a long time to be away from friends and family, however the successes we have seen on this deployment make the time away worth it.''

Able Seaman James Duffy, the coxswain of one of Lancaster's sea boats and who hails from the ship's namesake town, said:
"This has been a really successful deployment and I am really proud to have been a part of it. All the guys have dug out and looked out for each other and it is the team effort by everyone on board Lancaster that has made us so successful.''