Police Drugs Warning As Boomtown Fair Returns
13 August 2015, 07:10 | Updated: 30 March 2016, 13:50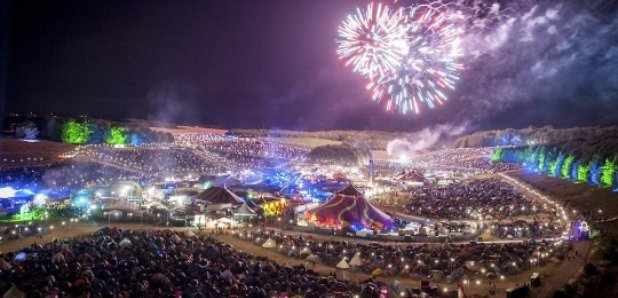 Hampshire Police say they're working closely with the organisers to keep this year's Boomtown Fair music festival safe after two drug-related deaths in two years.
40,000 festival-goers are expected to head to Matterley Bowl near Winchester for the sixth annual Boomtown Fair. The four-day event starts today (Thursday 13 August) and runs to Sunday 16 August.

Police say they are working closely with the organisers and local authority partners to ensure everyone going enjoys the event and gets home safely, and to minimise the impact on the local community.

They are also reminding festival-goers of the dangers of both illegal drugs and so-called 'legal highs'.
Last year, 31-year-old Lisa Williamson, from Hereford, was found hanged in a toilet after taking drugs.

The year before, 18-year-old Ellie Rowe died after taking the class C drug ketamine - more commonly used as a horse tranquiliser.
In the past few days Cumbria Police have spoken of the death of an 18 year-old man at the recent Kendal Calling Festival. A number of other people have been treated in hospital following suspected substance misuse at the event. A blue tablet bearing an Adidas logo, a light green pill with white flecks, and a similar grey tablet were identified by Cumbria Police at the festival.

Boomtown Fair will be handing out leaflets at the entrance to the festival with information on drugs and support, such as the Bristol Drugs Project and the medical and welfare provisions onsite. Amnesty bins will also be in operation and can be used by members of the public before they access the site.

Supt James Fulton, police commander for Boomtown Fair, said:

"Boomtown is a popular event and has increased the number of people that it attracts to Hampshire over recent years. We're expecting an additional 10,000 people on site this year. Working with organisers and partner agencies our priority is to keep the event running as smoothly and safely as possible for festivalgoer's.

"We have been faced with some challenges over the years, but I'm confident that Boomtown is committed to running a safe and secure event that everyone can enjoy.

"Our mobile police office will be a central point of contact for the public over the weekend, we'll also be offering festival-goers crime prevention advice and items like 'sockies' to help you keep your valuables safe.

"This is just one element of the full policing operation at the festival that we'll be undertaking. You'll also see us on patrol and our officers can provide you assistance if required.

"We have worked alongside Winchester City Council, Hampshire Highways and Boomtown's traffic management organisers to minimise traffic congestion on the roads surrounding the site, although as with any event, traffic on those routes will be heavy especially on the Thursday as people arrive, and Monday as people exit. Please keep following all agencies social media feeds for the latest updates.

"We will be maintaining a robust position on both drugs and legal highs, or new psychoactive substances, all of which are banned from site. If you are found with drugs you will at the very least be ejected from site and barred from returning, and there is a very good chance you will be arrested and prosecuted. Even just dabbling in illegal drugs and psychoactive substances can have catastrophic or fatal consequences – you might believe you'll be fine, but how do you know? The only way to be certain is not to take any at all."

For more advice and guidance to keep you safe at the festival, follow @FestivalCop on Twitter and visit the #BoomtownFair website.
(Picture: boomtownfair.co.uk)