20th Anniversary Of Isle Of Wight Teenager's Disappearance
2 November 2016, 07:34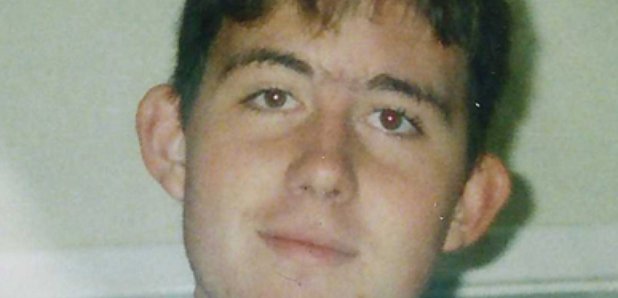 Exactly 20 years since the disappearance of Isle of Wight teenager Damien Nettles, volunteers are recreating his last movements.
They hope to jog someone's memory, of the night the 16-year-old vanished in Cowes in 1996.
Police say they'd need reliable information to justify any new search for his body. Police haven't ruled out murder but no-one's ever been charged over his death.
The final confirmed sighting of Damien on surviving available CCTV was in the former Yorkie's fish and chip shop off Cowes High Street at 11.35pm on 2 November 1996.
Damien was also positively identified by his family from CCTV on Cowes High Street at 12.02am on Sunday 3 November 1996. This footage showed Damien walking to a bus stop and then back along the High Street eating chips.
On the night of his disappearance, Damien was described as:

- White
- Six foot three inches tall
- Slim build
- Short brown hair, shaved at the back
- Brown eyes

He was last seen wearing:

- A black fleece jacket
- Dark blue jeans
- Black boots

Hampshire Constabulary says it 'is aware of a petition calling for extra funding towards a police investigation. At this time, no new facts and no new lines of enquiry have been identified'
'Any further investigations or searches for human remains would require a substantial investment of police time, expertise and resources. Officers would need verifiable information to justify such a search. A key point to repeat and remember is the reporting of any new facts, not fictions fuelled by the repetition of rumour.

'Regular checks of information reported to police will continue to be made by Hampshire Constabulary's Major Crime team. A detective keeps in contact with the Nettles family about any updates, and opportunities to raise awareness of the case such as public events and anniversaries related to Damien.'
Tonight, a volunteer wearing identical clothes will walk the last route Damien took, in the hope it'll jog someone's memory.
A post on the Damien's Last Walk Facebook page says:
'Please come & join us on the 20th anniversary of Damien's disappearance to walk the route Damien took on that fateful cold wintry evening on 2 November 1996.
'We will be joined by a kind volunteer who is of similar build to Damien, wearing identical clothing to try to jog people's memories.
'We need to ascertain what happened to Damien after the last confirmed sighting on the High Street in Cowes. Please wear suitable clothing and remain in the group for safety purposes.
'We look forward to seeing as many of you as possible.'
Anyone with new facts and information can contact Hampshire Constabulary by phoning 101 or emailing operation.ridgewood@hampshire.pnn.police.uk

Mini-com users can phone 18001 101. Information can be given anonymously by phoning the independent Crimestoppers charity on 0800 555 111