New £7m Isle Of Wight Fast Ferry Announced
22 August 2017, 08:14 | Updated: 22 August 2017, 08:15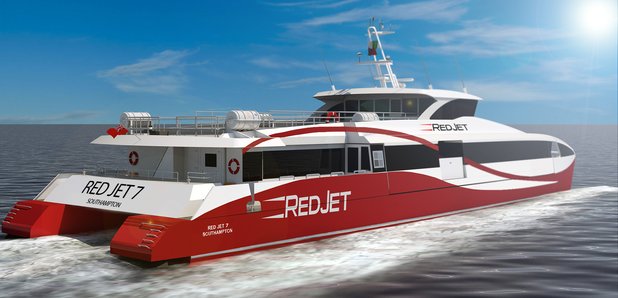 Isle of Wight ferry firm Red Funnel's announced it's spending £7 million on a new high-speed catamaran.
The 41-metre Red Jet 7 will be built at East Cowes, securing 85 jobs there - and will join the fleet next summer.
It'll look the same as Red Jet 6, which was built last year.
The order for Red Jet 7 marks the first major investment in Red Funnel by the consortium of UK and Canadian pension funds which acquired the cross-Solent ferry operator in July 2017.
Red Jet 7 will be a sister ship to Red Jet 6, which was built by Wight Shipyard on the Isle of Wight in 2016. That order from Red Funnel restarted the construction of fast-ferries in the UK and on the Isle of Wight after a gap of 16 years.
Kevin George, Red Funnel CEO, commented:
"We are thrilled to announce that Red Jet 7 will be built on the Island. The order represents a £7m investment in the local economy and will secure a wide range of skilled jobs in East Cowes and in the local supply chain. I am delighted that our new investors are showing, at such an early stage, their commitment to the future of Red Funnel, the Island and local businesses.
"Red Jet 7 will be virtually identical to Red Jet 6 which has proved to be efficient, comfortable and popular with our customers. Once Red Jet 7 joins the fleet next summer we will have 3 large modern Red Jets each capable of carrying 277 passengers in comfort in all weather conditions. The introduction of Red Jet 7 will represent a further 51% increase in capacity for the Red Jet service".
Peter Morton, Managing Director of Wight Shipyard, said:
"We are delighted to receive this order for Red Jet 7 which follows on from Red Jet 6 which we built last year. There can be no better endorsement than a customer placing a repeat order and I would particularly like to thank Red Funnel for their belief in our product and the quality of our work on the Isle of Wight.
"I am extremely proud of my colleagues at Wight Shipyard who I am convinced now build the finest high-speed ferries in the World. This contract follows the two boats we recently completed for MBNA Thames Clippers in London and with final contracts for our first export order being negotiated, the prospects for the Wight Shipyard and the 85 jobs on the Island are healthy.
"We have over 100 local companies supplying us goods and services and whilst we have our challenges in finding a permanent facility in East Cowes we are working with Local and National Government to resolve the issue."
A Red Funnel statement said:
'Like her sister, Red Jet 7 will offer ground breaking levels of reliability, safety and passenger comfort with the accommodation insulated from the hulls to reduce vibration and cabin noise. Customers will experience a quiet, spacious and well-lit cabin fitted with leather seats and a sophisticated air-handling system designed to dry, cool or warm the air automatically. A high bandwidth ship-to-shore Wi-Fi system will be installed which will be free for customers and the latest travel information system will be installed to show connecting services for buses, coaches, trains and flights in real-time. Other features include USB charging-points, LED coloured lighting and a toilet.
'Red Jet 7 will be one of the greenest ship in Red Funnel's fleet with a host of design features to reduce fuel consumption and protect the environment in line with the company's ISO 14001 accreditation.
'The use of waterjets rather than propellers will aid manoeuvrability and provide impressive stopping power whilst keeping wash to an absolute minimum.
'She will be fitted with four main MTU 2000 series diesel engines, each one connected to a Hamilton DRP-500QD waterjet unit. This configuration helps to reduce fuel consumption and provides high levels of in-service reliability. Emissions will meet IMO Tier II regulations.
Other technical innovations to reduce fuel consumption include the use of vinyl instead of paint for the superstructure to reduce weight and the application of the latest Teflon hull coatings to minimise drag through the water. The installation of a rescue boat on the stern will also enable the vessel to operate outside the confines of the Solent.'