New 10-Screen Cinema For Southampton
10 February 2017, 07:04 | Updated: 10 February 2017, 07:07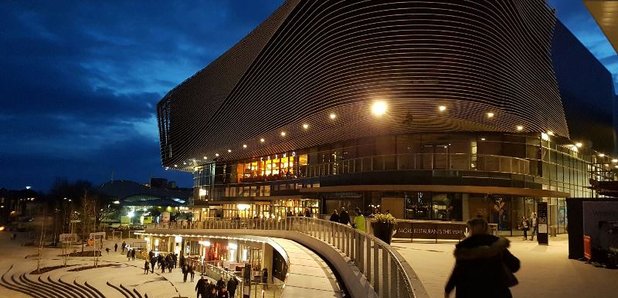 Southampton's latest cinema opens later on - at the new West Quay leisure development.
The Showcase Cinema De Lux has ten screens - with electric reclining seats, a lounge bar and VIP service.
That's being marked with a Festival of Light in the new public Esplanade next to it - featuring 12,000 LED lights.
Westquay said:
'Southampton's new dining and leisure destination is set to host a stunning Festival of Light on Friday 10th February in scheme's public Esplanade to mark completion of the development and the launch of Showcase Cinema De Lux. The 10 state-of-the-art screen cinema includes the biggest screen not only in Southampton, but on the whole of the South Coast.

'The Festival of Light will run from Friday 10th to Sunday 19th of February, starting at 5pm each day and ending at 10pm. The installations will feature work from design studios Squid Shop and Cinimod, both of which have curated innovative light displays that captivate visitors.

'Highlights for visitors will include immersive artwork that tracks body movements, illuminated arches and an interactive ocean featuring 12,096 LED lights. And on Valentine's Day the display will be adapted to feature digital mapping that shows a sequence of romantic, abstract coloured scenes.'

Andy Collyer, General Manager of Westquay said:
"Marking the important milestone of completion of Westquay's dining and leisure offer with a spectacular Light Festival is very fitting. We were delighted that the light display in December was such asuccess and enjoyed by so many people which is why we have chosen to bring it back but this time with so much more to experience.

"Since the first restaurants began opening last month it has been great to see visitors enjoying the fantastic line-up Westquay now has and we look forward to welcoming many more customers as Southampton now undoubtedly becomes the go-to destination for retail, leisure and dining on the South Coast."